It's no secret at The General that our people make us possible. Each person on our team plays a key role in helping us achieve our goals while providing our customers with excellent products and service. To showcase the unique and important work being done across The General, we've rolled out a story series about our amazing employees – A Day in the Life! Each month we will feature a different employee and give you a chance to see what a day in their work life is like. Bonnie is a Regulatory Attorney with The General, and she is based out of Nashville, Tennessee. Bonnie has been with The General for 3 years. Here's a look at a day in the life of Bonnie.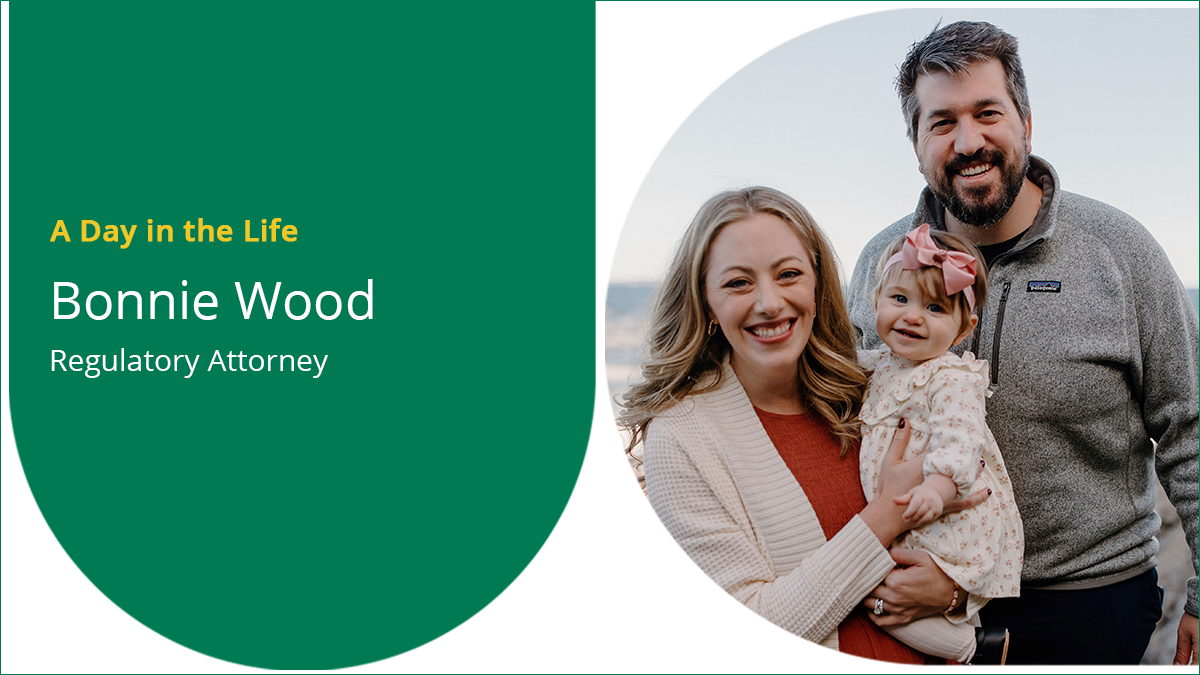 Describe your job in one or two sentences. As a Regulatory Attorney, I wear a lot of different hats. My main function is to help business initiatives move forward in a way that complies with federal and state law.
What does a typical workday look like to you? No two days are alike, which I love! As a shared services employee, most of my work is with The General, but I also work with the other operating companies under American Family Direct. I review and advise on most customer-facing content, which involves a lot of collaboration with marketing and UX teams. I help draft policy forms and endorsements and advise the business on what is needed to comply with regulatory changes around the country, in addition to researching and answering various legal questions as they pop up around the business.
I could be in meetings advising on various initiatives one day, and the next I could have my head buried in research and content reviews. It's always changing and is never dull!
What do you enjoy most about your job? I really enjoy working with so many people in different parts of the business, especially when projects intertwine. I might draft an endorsement for the Product team, but also work with the UX team to get the associated customer experience off the ground, and then review the related marketing material. It's fun to see all the moving parts that are required to successfully bring a project to life.
Some of my favorite projects have been working with the various marketing teams across operating companies. My college background is in advertising and public relations, so it's exciting for me to combine my interests in marketing with my legal expertise. Although Legal can sometimes be seen as the "no" department, it's important to me to find strategic solutions to move initiatives forward when possible. Having an interest and background in this area has really helped me change that "no" department mindset and instead offer up workable solutions.
What is something you wish people knew about your job? That sometimes a quick question doesn't have a quick answer. Often, a good amount of legal research – sometimes in all 50 states – is needed to be able to fully advise on an initiative. I always advise business partners to bring Legal in early so we can advise on potential red flags and have time to do some research to keep projects moving forward.
What skills are required in your daily work? Time management is huge, along with the ability to prioritize effectively. Issue-spotting, risk-assessment, research, communication, and patience are also necessary skills in this job.
What drives you? A few things! My family drives me. I have an almost one-year-old little girl, and it's important for me to show her that she can be whatever she wants in life through hard work and dedication. I'm also driven and motivated by success. I love seeing a project come to life and I feel proud to be involved with projects that drive big results.
What do you like to do when you're not working? I love to travel with my husband and daughter, and we love to find a good hike anywhere we go. We are trying to get to all the National Parks and recently finished an amazing trip to Acadia National Park in Maine.
If you could give one piece of career advice, what would it be? Surround yourself with people who rally your success, and be the person who rallies others' success. There's room for all of us!
Interested in a Career at The General?
Come join our growing team! At The General, our people make us possible. We're looking for bold thinkers and passionate individuals who share our goal of bringing affordable, quality insurance to people across the country. Our vision influences how we deliver on our promises to our customers, our communities, and each other.
We take pride in offering quality insurance and providing exceptional service. Through your invaluable skills and talents, you can help us continue to shape the insurance industry – just as we've been doing since 1963.
If this sounds like your kind of opportunity, we want to hear from you!
Explore our career opportunities and learn more about working at The General.