It's no secret at The General that our people make us possible. Each person on our team plays a key role in helping us achieve our goals while providing our customers with excellent products and service. Meet Vincent Howell! Vincent is a Business Analysis Supervisor at The General, and he is based outside of Atlanta, Georgia. Vincent has been working for The General for over 5 years. Here's a look at a day in the life of Vincent.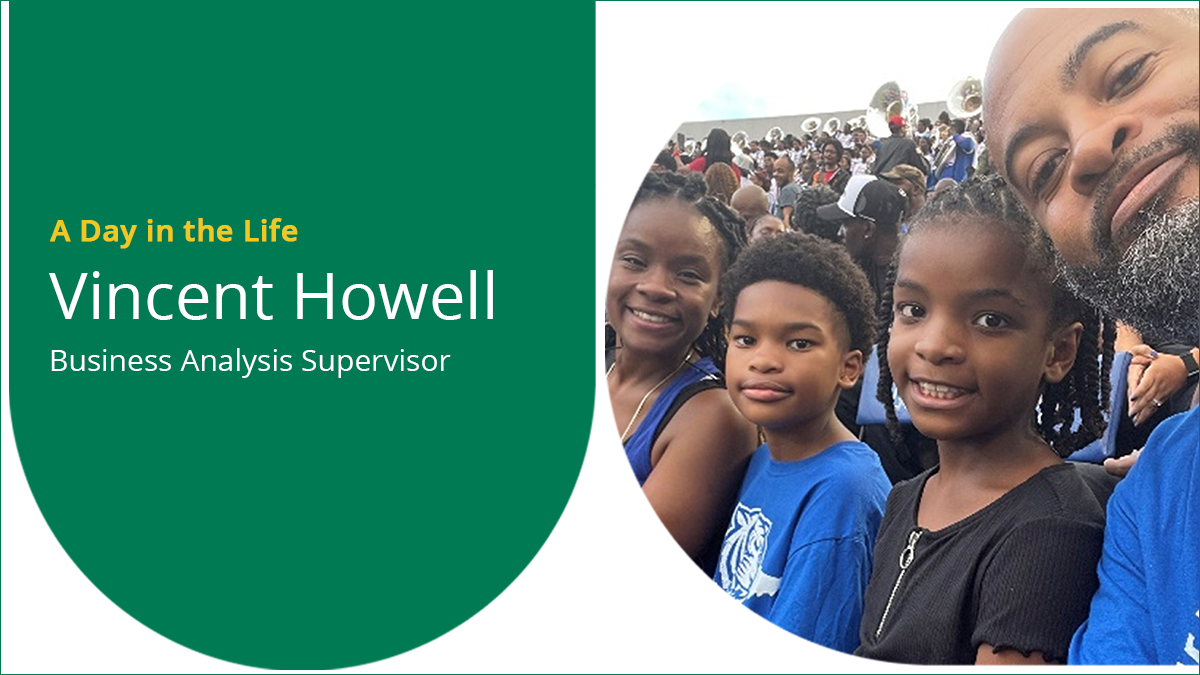 Describe your job in one or two sentences. I manage an amazing team of business analysts. That includes making resource assignments, coaching my team, and ensuring that each team member has growth opportunities and feels they have the support and resources to be successful within their projects and the company.
What does a typical workday look like to you? No day is ever the same. Typically, I'll work on resource planning, project meetings, coaching, and working to improve overall processes for my team. I ensure that we are properly soliciting requirements to help deliver successful projects and are prepared for managing through change.
What do you enjoy most about your job? The people are by far what I enjoy most about my job. I have a great team that I trust and believe in, and it's been a great experience working with and getting to know them over my years at The General.
What is something you wish people knew about your job? That the people doing the work are more important than the work itself. It's important to be encouraging, yet not afraid to have tough conversations.
What skills are required in your daily work? Analytical skills, organization, communication, empathy, the ability to have crucial conversations and see multiple perspectives, and adjusting on the fly due to changes in priority and/or business needs. But above all else, being a good listener.
What do you like to do when you are not working? When I'm not working, I enjoy spending time with my family and watching my kids grow up, running, going to the gym, and listening to music.
If you could give one piece of career advice, what would it be? Learn from others and take advantage of every experience. Build relationships and align yourself with people who believe in you and will push you to be better. Don't be afraid to ask questions!
Interested in a Career at The General?
Come join our growing team! At The General, our people make us possible. We're looking for bold thinkers and passionate individuals who share our goal of bringing affordable, quality insurance to people across the country. Our vision influences how we deliver on our promises to our customers, our communities, and each other.
We take pride in offering quality insurance and providing exceptional service. Through your invaluable skills and talents, you can help us continue to shape the insurance industry – just as we've been doing since 1963.
If this sounds like your kind of opportunity, we want to hear from you!
Explore our career opportunities and learn more about working at The General.