It's no secret at The General that our people make us possible. Each member of our team makes an important impact on our team, as well as our customers. This time we are taking a look at the daily life of Darryl Speede! Darryl is an Underwriting Supervisor located in the Nashville area, and he recently celebrated his 10-year anniversary at The General. Here's a look at a day in the life of Darryl.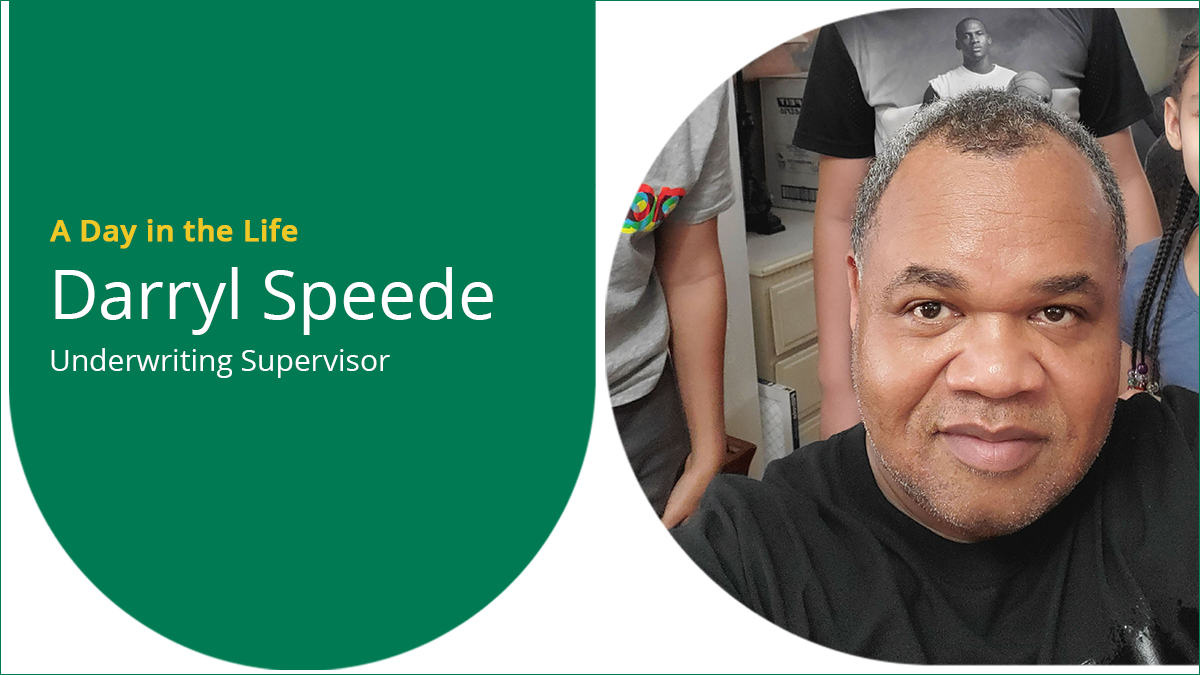 What does a typical workday look like to you?
I start off each workday by checking my calendar to view my scheduled meetings, one on one/coaching sessions with team members, or calls. After that, I'll send my usual "good morning" message on Teams to my UW peers, my team, and all of Operations. Then it's on to reviewing policy information and responding to questions from my team, Claims, Customer Service, or our customers. Add that to an ongoing review of specific state guidelines, Underwriting procedures/policies for process improvements, and collaborating with other various departments and specific state contacts to ensure information is being processed properly so that we can provide assistance when needed. I also allow for any/all opportunities for providing feedback and coaching opportunities for my team members and any of Underwriting's internal or external customers.
What do you enjoy most about your job?
The people I work with daily. Even though we are working from home, we're still very much a team and family. I always look forward to talking and supporting one another. I also enjoy that things change constantly – we are forced to learn new things and it keeps the work interesting. And I enjoy the flexibility to work from home and from the office.
What is something you wish people knew about your job?
In Underwriting, we are asked questions from different tangent departments and while we don't have the answers for everything, we are always willing to go the extra mile and utilize all available resources to find a resolution. We are the gatekeepers for risk analysis.
What skills are required in your daily work?
Patience, for starters. You need the ability to provide direction, as well as keeping an open mind to receive direction. Critical thinking and analytical skills are needed – and written and verbal communication skills are a must. The ability and confidence to make appropriate business decisions are also critical.
What do you like to do when you are not working?
I love quiet times at home with my 2-yr. old (Sir Booker Min. Schnauzer aka…Boogie/Boogs). I also love having a good laugh and being goofy with my family and extended work family and friends. I'm also registered as an adult literacy tutor with Davidson, Wilson and Sumner Co., and I enjoy helping improve reading and writing skills. Hitting various trails and traveling are also among my favorite activities. But my favorite thing to do is spend time with my youngest family members (Kyel and Zayden) my great-nephews who just turned 1 year old this month.
What drives you?
Life and the countless blessings that are given to me every day.
If you could give a piece of career advice, what would it be?
Make it your mission to learn something new every day that will allow you to continuously develop and grow.
Interested in a Career at The General?
Come join our growing team! At The General, our people make us possible. We're looking for bold thinkers and passionate individuals who share our goal of bringing affordable, quality insurance to people across the country. Our vision influences how we deliver on our promises to our customers, our communities, and each other.
We take pride in offering quality insurance and providing exceptional service. Through your invaluable skills and talents, you can help us continue to shape the insurance industry – just as we've been doing since 1963.
If this sounds like your kind of opportunity, we want to hear from you!
Explore our career opportunities and learn more about working at The General.