Car insurance for new drivers costs more than the rates seasoned motorists pay. This is due to the fact that new drivers are less experienced and more likely to be involved in an accident than drivers with a longer.
Anyone who is newly licensed is considered a new driver, whether they are 16 or 60. The same holds true for drivers who are newly licensed to drive in the U.S., even if they were licensed in another country before.
If you are considered a new driver, there are ways to find cheap car insurance rates while still receiving the coverage you need.
Cheap Car Insurance for Teens
The vast majority of new drivers are teenagers, and it's no secret that teenage drivers and cheap car insurance hardly ever go hand-in-hand. But why is that?
According to the CDC, the risk of motor vehicle crashes is highest among teens aged 16-19.[1] In fact, studies have shown that new teen drivers are most likely to experience a collision during the first three months after receiving their license.[2] Male teens are at higher risk than females. The odds of crashing increase even more when teenage drivers ride with other teen passengers.
Getting your first-time teen driver their own insurance policy rarely makes financial sense. That's why finding the best car insurance for new drivers is often just a matter of creating an addition to a parental policy. Keep in mind that while adding a teen to a policy is usually the cheapest option, the premium amount can still increase significantly. On average, adding a teenager to the parent's policy increases the premium by about 152 percent. However, there are ways to lower your car insurance premiums and maintain cheap car insurance, even with a teen on your policy.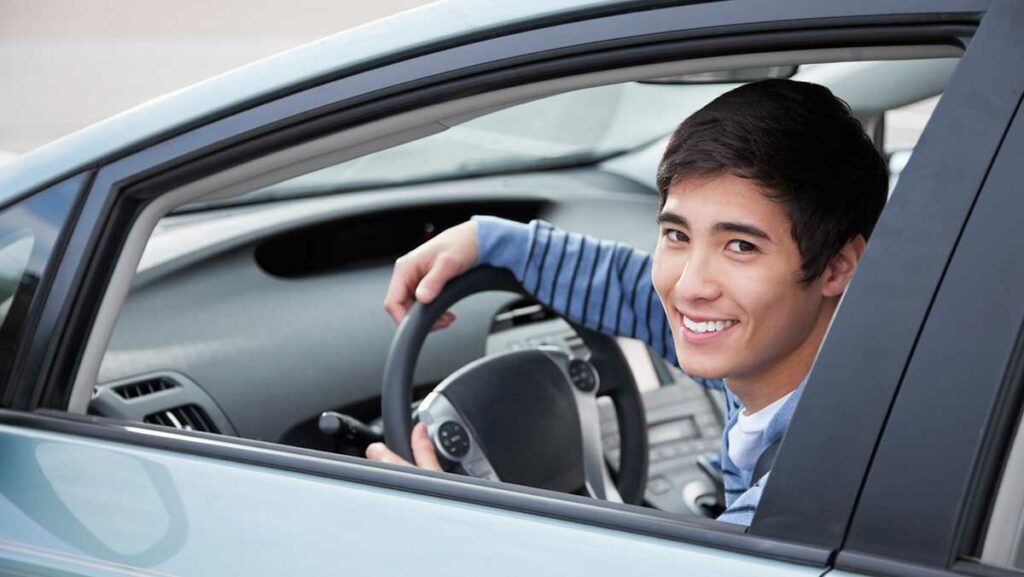 How to Find Cheap Car Insurance for First-Time Drivers
New, non-teenage drivers don't always have the option of being added to their parent's insurance and will need to sign up for their own policy. Finding cheap car insurance for new drivers involves shopping around and comparing quotes. To find the best insurance for your needs, get set up with at least three car insurance quotes from carriers in your state to ensure you have reliable ballpark figures. Before going with the lowest quote automatically, make sure you understand the specifics of the coverage. You don't want to find out that items you thought were covered are not part of your policy when you end up getting into an accident.
What Car Insurance Do New Drivers Need?
Understanding the type of insurance you will need is a crucial first step in finding the best car insurance for new drivers. The minimum amount of insurance you must carry depends on your state's laws. It's smart to carry more than the minimum, because should you be at fault in a serious crash, you can become personally liable for the other party's expenses beyond what your insurance covers if you live in an at-fault state.
You will typically need to buy bodily injury liability insurance, which is divided into per-person and per-accident coverage. You'll also need to purchase property damage liability coverage, which pays for damage you cause to another person's property. Some states require the purchase of uninsured or underinsured motorist coverage. Collision and comprehensive coverage pays for repairs to your car after you meet your deductible, up to the coverage limits.
Car Insurance for Older Vehicles
If you have an older car, purchasing collision and comprehensive coverage may not be of value. However, under this circumstance, you should have access to funds to buy a similar vehicle if it is damaged in an accident in which you were at fault. Even if you were not at fault, the other driver's insurance company will only pay up to your car's fair market value. This situation can vary depending on whether you live in an at-fault or no-fault state, so check with your insurer to see your specific coverage details.
Car Insurance for Leased Vehicles
Should you be driving a leased vehicle, or you are still making payments on a car, the lessor or lender may require collision and comprehensive coverage or higher limits of liability coverage as part of the lease or loan agreement.

How to Save on Car Insurance for New Drivers
If you want to save money on car insurance, drive an inexpensive vehicle. Luxury vehicles cost more to insure for collision and comprehensive coverage. In fact, premiums for luxury car insurance can range up to 18 percent higher than standard car insurance. By opting for an affordable and practical vehicle, you can easily save on insurance costs.
New driver insurance costs are high at the initial start of your policy, but those costs go down over time if you're careful in maintaining a safe driving record. While there is no "magic" age at which premiums decrease, expect to find lower rates by the time you are in your mid-20s. If you didn't become a new driver until later in life, rates will come down as you gain experience and avoid traffic violations.
Take Advantage of Discounts
New drivers can save money on car insurance by seeking out and taking advantage of discounts. Many insurance companies offer a wide range of discounts that could help cut down your monthly and annual car insurance costs.
Military and First-Responder Discounts
Depending on the car insurance company, members of the military and veterans may be eligible for new driver insurance discounts. This is also true for certain occupations, such as first responders and members of certain organizations and clubs. Do some research to see if you might qualify for any money-saving discounts.
Vehicle Safety Discount
Does your vehicle have anti-theft or other safety equipment? In-vehicle safety devices can help bring your premium down in some states. However, fancy high-tech features may have the opposite effect, because when cameras or sensors are damaged, repair costs are generally expensive.
Driver Monitoring
Some auto insurance companies may participate in programs that monitor driving via an app. New drivers receive feedback about what they are doing well and which driving habits need improvement. Discounts apply once the new driver has been monitored for a certain period and proven their skills.
How The General® Can Help
If you're looking for car insurance for new drivers, you've come to the right place. At The General®, we pride ourselves on quality coverage and cheap rates. That's true for drivers old and new!
At The General®, your priorities are our priorities. This means affordable rates, superior customer service, and rapid response times when you do have a claim. If you're a new driver, we think you'll like our coverage so much that you will stay with us for the long haul. Many of our insured are third and fourth-generation customers. Their great-grandparents, grandparents, and parents all knew our exceptional service firsthand and passed down their recommendations to the latest new drivers in the family. Get a car insurance quote from The General in under two minutes and find a cheap car insurance policy for your new driver today.