Why You Should Consider Buying a Used Car
Trying to decide whether or not buying a used car is right for you? Dealerships park shiny new models close to the road for a reason. They're eye-catching and tempting and they get you onto the lot, but a new car is not the best option for everybody or for every situation. There are a ton of great reasons to shop pre-owned.
Save Money and Avoid Major Depreciation
One of the biggest reasons that many people opt to buy a used car is depreciation. You may have heard it before, but the truth is, a new car loses about 10% of its value the moment you drive it off the lot! The average depreciation in the first year is about another 20%. Not only are you saving a few bucks in the beginning by buying a used car, but you also avoid the potential loss you might suffer if you need to sell or replace that car in the first year.

Lower Insurance Premiums
Car insurance companies rely on a large variety of factors to determine your rates, and every situation is different. The more expensive it would be to repair or replace your car if you get into an accident, the more you can expect to pay in premiums. Often, an older, less expensive model means your car insurance quote will be shorter. It's not the only factor you want to consider, but it's worth looking into. Your car insurance company should be able to help guide you as you make your car-buying decisions.
Peace of Mind
Buying a used car over a new model can give you a little extra peace of mind. Once a car has been on the market for a few years, you'll find reviews from owners who have driven them for a while. You may even be able to locate online owners' forums and enthusiast groups. You can look into recalls, learn about frequent mechanical issues, and even buy a certified pre-owned (CPO) car. CPOs are rigorously inspected and backed by the original manufacturer.
Variety
Since you aren't restricted to current models, you have more options when purchasing a used car over a new car. You'll have years' worth of models, options, and even colors to choose from. When you're shopping for new cars, there are only 300-400 models to choose from across all brands. You never know, you may prefer a model, trim package, or paint color that a manufacturer doesn't offer anymore.
Aftermarket Options 
Sometimes you can really score on the extras when you buy a used vehicle. Previous owners may have already upgraded things like their tires and sound systems. If you love the outdoors, you can benefit from someone else's investment in a roof rack or bicycle carrier. There are seemingly limitless options out there for aftermarket upgrades, and shopping used can help you find the car, truck, or SUV that already meets your needs.
Before You Buy a Used Car
Keep these tips for buying a used car in mind before sealing the deal.
Determine Your Budget Before Buying a Used Car
Knowing what your budget is before you shop for a car is always going to help you avoid the pitfalls. Whether paying cash or seeking financing, know what you can truly afford, and don't forget to include the additional costs. Consider what you'll likely be spending for gas based on your driving habits and look into average maintenance costs. For example, some cars require specialty oil changes, and replacing tires on a truck is more costly than replacing them on a small car. Last but certainly not least, don't forget car insurance! It's helpful to consider all of these things when setting your car-buying budget.
Determine Your Payment Plan
Hand in hand with setting your budget, you'll want to decide what payment plan is best for you before shopping for a used car. Do want to pay cash or do you need to finance? If you're planning to finance, consider your options. Decide how many months you're comfortable making payments. Do you want to trade in your current vehicle or sell it outright to a personal buyer? Either way, you'll need a solid down payment to keep your interest rate low. If you decide to finance your car, you can save money by securing financing from your bank before visiting your dealership.
Consider Your Needs
Whether you're shopping for a family car, a car for work, or a second car "just for fun," everyone's needs are unique, so it's important to choose a car that fits your lifestyle. If you have a long commute or travel frequently, you may be most concerned about gas mileage. Your family size (or planned family size) may mean you need a little extra room. If you're taking your kids to soccer practice or you move a lot of gear around for your job, take a look at storage space. If none of those apply to you, you may be looking at comfort and engine size above all else. You'll have a lot of questions while shopping for a used car, so go ahead and make a list of the features you want your used car to have.
Do Your Research
So now you know that buying a used car means that there are a lot more options available. Take advantage of that. Scour the web for customer reviews (and pro reviews too). Ask around if your friends and family have driven similar make and models. Once you think you've found the right car for you, run a vehicle history using a site like Carfax.com and consider a mechanic inspection.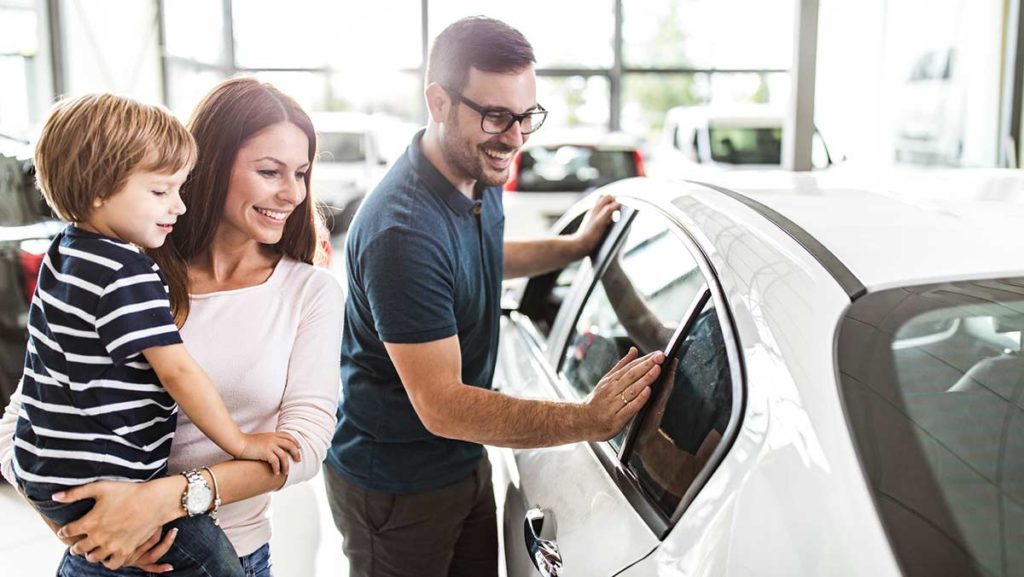 What to Avoid When Buying a Used Car
Don't make these mistakes when buying a used car for the first time.
Don't Skip the Test Drive
Whatever you do when buying a new car, don't skip the test drive, and don't just drive around the block! Consider test driving on wet roads or feel out acceleration with a quick drive on the highway. Drive your prospective vehicle in traffic and driving conditions that reflect your daily life. Test driving during heavy in-town traffic will help you feel out blind spots and ease of navigation. If you regularly need to park in public garages or in parallel spaces, give your potential "new" car a try in those environments too. See how that vehicle is going to fit into your life!
Don't Buy Based On Looks Alone
It's always tempting to go for the prettiest vehicle, but avoid getting swept away by your favorite color or a sporty trim package. That list of must-haves you put together in your planning and research phase before buying a used car will help you stay on track and find the best car for your needs.
Don't Go Over Your Budget
Remember to stick to your budget! Avoid looking at or test-driving anything that's outside your price range to avoid temptation. Once you get behind the wheel, it's tempting to spend just a little more and you don't want to regret that expense in the long run.
How to Get a Deal on a Used Car
Maximize your savings when you buy a used car by doing your research and shopping smartly.
Consider Buying From a Rental Company
Rental car companies refresh their fleets often and offer great deals on low-mileage cars! Reliability is important to rental agencies, so these companies usually follow recommended maintenance on their vehicles, which you might not get with a private owner. If you don't like to haggle, rental companies may be a great option for you as they often offer fair, non-negotiable rates.
Negotiate 
If you're the type that likes negotiating for the best price, you may want to shop at your local dealership. Keep in mind that if you do, the first offer from your dealer will probably require a little negotiation. Because you've done your research, you'll be armed with knowledge on expected pricing for your models of choice and fair value if you're bringing in a trade. Be willing to ask for the best deal and don't be afraid to walk away if you feel you aren't getting it!
Shop Around – Expand Your Search
One of the very best ways to save when you buy a used car is to expand your search area. You may find that the vehicle you want is available and less popular at a dealership that's farther away. The drive might be worth it as less demand can lead to better deals. You'll be up against less competition to buy and dealers may be more motivated to move inventory.
Check Out Discontinued and Slow-Selling Models
Some vehicles just don't sell like manufacturers hope they will. Obviously, that means those models will be discontinued. Look into discontinued models in recent years and you may find a slow-selling gem that's perfect for you and cheaper than your other options! Don't be afraid to watch a dealership's used car inventory for a while before you buy. You may be able to spot a vehicle or two that have been sitting on their lot for a while. If they've been slow to sell, you can probably negotiate a good deal and help take one off their hands!
If You're Buying From a Dealer, Shop Late in the Month
Last, but not least – if you're planning to buy a used car from a dealership, think about shopping late in the month. All dealerships have goals to meet on moving inventory and if they haven't met them yet, they may be willing to make extra good deals to get another vehicle out the door before they close out the month. Think of it as a win-win. You'll get a great deal while helping a seller hit their goals.
Once you've done your research, found the right car, and made the best deal, you'll need insurance to be all set to drive your "new" vehicle home. That's the easy part! The General can give you a quote on your new ride in 2 minutes or less!