You were right, and we want to reward you! Complete an email survey for a chance to win a customized swag box with branded merchandise.
Why do you ride with The General?
 From April 4-22, 2022, The General will be taking to social media to show its appreciation for those customers who have stuck by its side through its recent and extensive brand transformation. Customers will have the opportunity to enter an exclusive giveaway by completing an email survey and can even receive a bonus entry by crafting a Tweet or Facebook post using the hashtag #TOYWRSweepstakes detailing why it "turns out" The General is the best auto insurer. 
 On April 26, 100 lucky winners will be announced and gifted with a customized swag box with The General branded merchandise in it. So, get creative and show us why you love The General and be sure to check out all the details below on how to enter!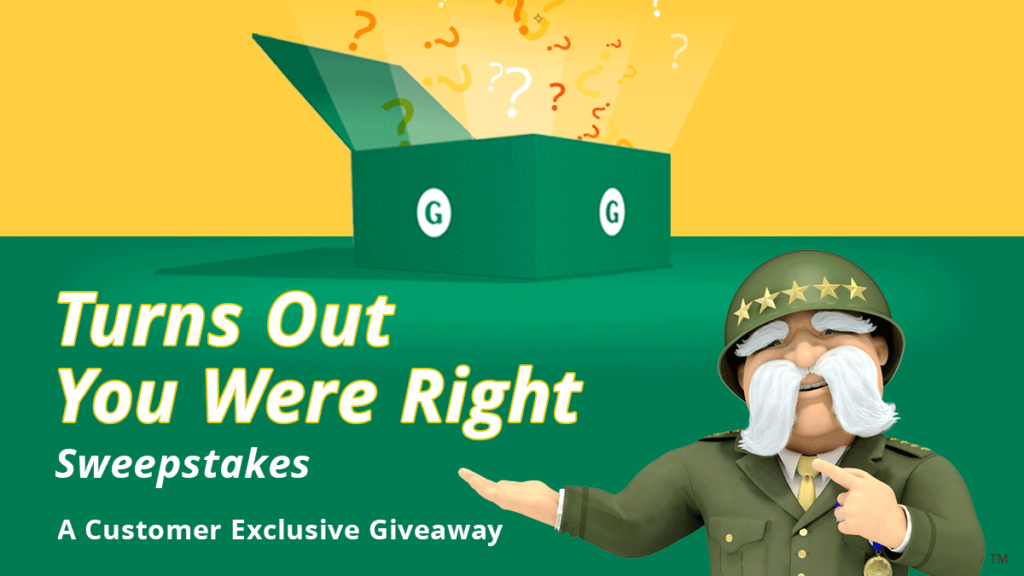 How do I enter?
There are two (2) methods of entry and one (1) method for receiving a bonus entry for the #TOYWRSweepstakes and a chance to win a customized swag box with branded merchandise: 
Be an active The General customer.

Method #1 Email Invitation Entry

: The General will send an email giving current customers an opportunity to enter the sweepstakes. Entrants must fill out the survey in its entirety in order for their entry to be considered valid. 

 

Bonus Entry for Email Invitation Entry Recipients

: Upon the completion of the survey, entrants can choose to receive one (1) bonus entry by creating a Tweet or Facebook post showcasing "Why they ride with TG". Each post must be made during the official sweepstakes period and include the following hashtag: #TOYWRSweepstakes.

 

Method #2 – Mail-In Entry for Email Invitation Recipients

: An eligible entrant who has received an email invitation may enter the Sweepstakes by mail by printing the form available in the survey and mailing it to the address listed in the email.

 
All entrants sharing a bonus entry are encouraged to make sure their social media accounts are public so that their additional #TOYWRSweeptakes submission is accounted for.  
 Want to read the rules before you enter The General's "Turns Out You Were Right" Sweepstakes? Our full terms and conditions can be found here.