In honor of National Women's Small Business Month, four powerhouse, Black female leaders at the American Family Insurance Enterprise gather for a roundtable led by Daymond John
As part of the second annual Black Entrepreneurs Day event beginning today, October 14 at 7 p.m. ET, The General is proud to present Black LeadHERship – A Black Women's Roundtable hosted by Daymond John. In honor of National Women's Small Business Month, the roundtable showcases four powerhouse, Black female business leaders from the American Family Insurance Enterprise to discuss their own career journeys while offering advice to other Black women looking to form their own entrepreneurial paths.
The AmFam leaders who will take part in this panel discussion include the following females, and each will discuss a specific topic that resonates with their own personal career journey: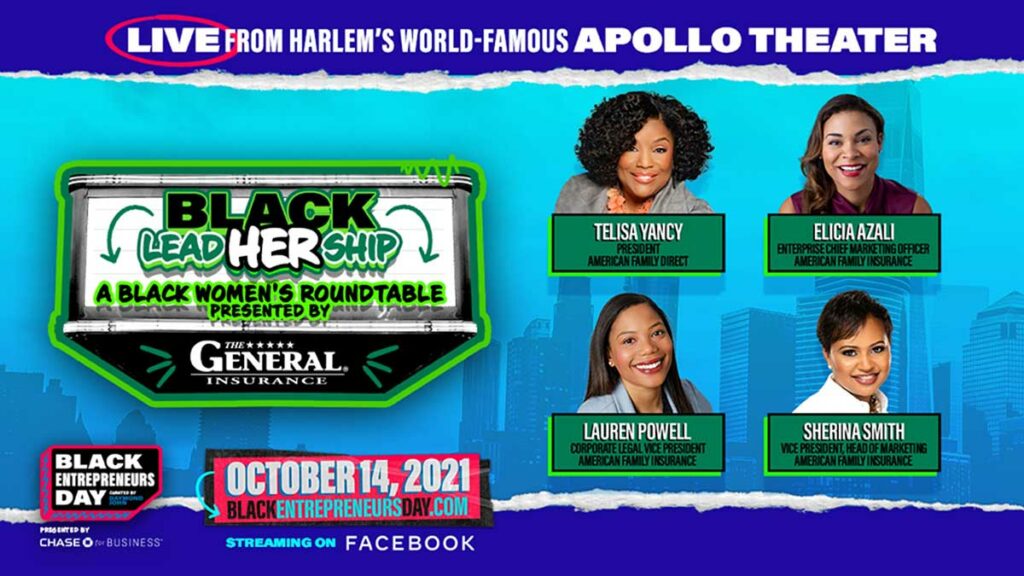 Telisa Yancy, President of American Family Direct — Breaking Barriers:
Telisa will sit alongside her peers as she discusses how, as the first Black female to join the American Family Enterprise leadership team in July 2021, she helped to break barriers so that other Black females could follow in her path. From advice to sharing some accomplishments, Telisa will provide insights on where she came from, how she got to where she is, and how she plans to drive diversity and inclusion in both her professional and personal life.
Elicia Azali, Enterprise Chief Marketing Officer of American Family Insurance — Experience Leading:
Knowing exactly how hard it is for Black females to advance in the workplace, Elicia will open up about her recent promotion to Chief Marketing Officer and how that exemplifies the culture of the American Family Insurance Enterprise and where the company is headed in the future, including examples of how the enterprise continues to embrace diversity and inclusion — from discussions of George Floyd to The General undergoing a brand refresh. Elicia will give us a peek behind the curtain about who inspires her every day and how she incorporates that person into how she accomplishes being a successful Black, female leader.
Lauren Powell, Corporate Legal Vice President of American Family Insurance — Using Your Voice:
If there's one thing Lauren knows well, it's the importance of maintaining a certain professional reputation. Lauren will dive into how all leaders, but most importantly Black, female leaders, must use their voices to spite the stigma of Black females speaking up and adding their perspective. Your voice is your power, and Lauren will look to inspire other Black females to find and best use their own voices.
Sherina Smith, Vice President, Head of Marketing of American Family Insurance —Transformation:
Sherina is a proven marketing leader who deeply understands the value and need of transformation within a brand. As a leader in American Family's marketing division, Sherina has had the opportunity to transform how the entire enterprise markets to customers and is perceived. She will speak to this experience and the way that she sees the future of enterprise marketing as a Black female leader.
As the industry and the business world continue to grow, The General continues to seek out partnerships like Black Entrepreneurs Day to further its commitment to diversity, inclusion, and our customers. Watch the Black LeadHERship – A Black Women's Roundtable this evening streaming exclusively on Daymond John's Facebook page. To learn more about Black Entrepreneurs Day, visit www.blackentrepreneursday.com.