NRG Esports Rocket League Team to be Renamed "The General NRG" in a Landmark Partnership 
The General® Insurance is developing a knack for first-of-its-kind partnerships! Today we're excited to announce our entry into the world of esports with an unprecedented agreement with NRG Esports' World Champion Rocket League team. NRG's Rocket League team will be renamed "The General NRG" for all future competitive and non-competitive events. This is the first partnership of its kind in the North American Rocket League and The General's first partnership in the world of esports. 
Who Is NRG?
NRG is a professional entertainment and gaming company founded in 2015 and headquartered in Los Angeles. Over the last half-decade, NRG has embodied competitive esports excellence and all the best aspects of gaming culture. They are known not only for championship teams but also for their innovative gaming lifestyle content. In addition to the reigning world champion Rocket League team, NRG boasts the most viewed and storied competitive Fortnite roster in the game and an Apex Legends squad with numerous national and international titles under its belt.
Why Rocket League?
NRG has proven to be one of Rocket League's most consistent and potent competitive forces, and The General is excited to join the team! The team won the Rocket League World Championship in December 2019 and reached the mountaintop once again in early 2021, setting the tone for a year of continued competitive success and organizational growth, highlighted by this unique partnership with The General.
"We're thrilled to bring The General into the world of esports and NRG. Coming in as the entitlement partner of our historic Rocket League team is such a natural fit for The General. We're excited that they will be a part of our journey towards another World Championship title." – Brett Lautenbach, President of NRG Esports
This partnership is part of our larger journey that aims to drive significant growth relative to our industry and adjust how we are publicly perceived. Earlier this year, we announced a brand refresh and launched a new ad campaign to dispel misperceptions of the brand, starring The General brand ambassador, Shaquille O'Neal. This relationship is a continuation of our commitment to investing in programs that reflect the diverse backgrounds and interests of our customer base.
What Does The General & NRG Partnership Look Like?
The Rocket League team will be outfitted in The General NRG-branded jerseys for all events. The naming rights and co-branded jerseys will first be seen during The General NRG's next competitive event: North America Major #3.
Also, NRG's owned and operated "The Grid" broadcast, the team's personalized live stream of its gameplay during the Rocket League Championship Series weekly tournament circuit, will now be presented by The General,  elevating NRG's industry-leading Twitch streams and productions and giving viewers an even better experience!
How Did this Exciting Opportunity Come to Be?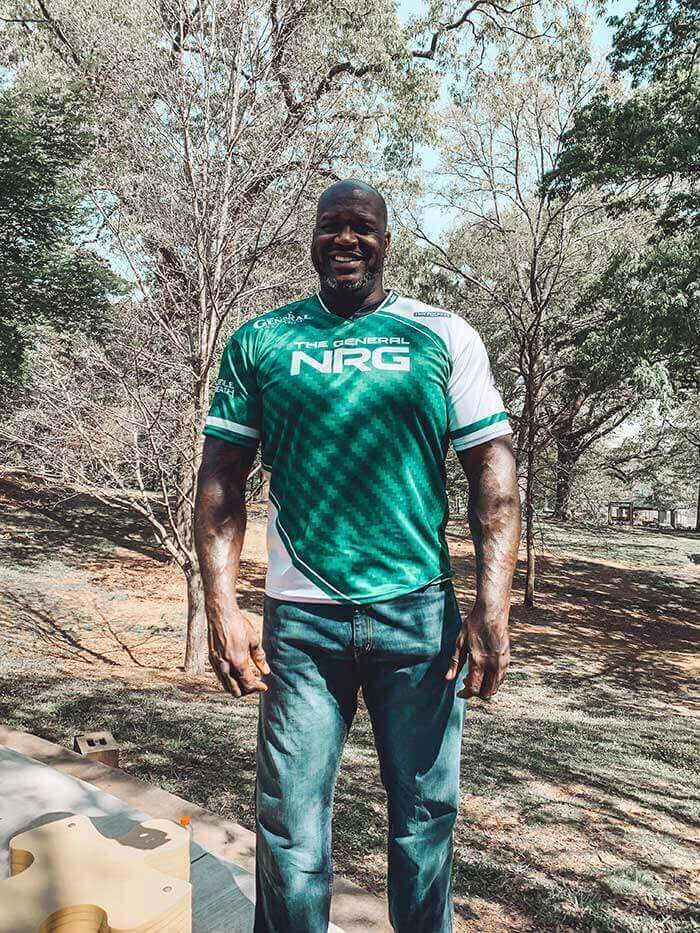 As is often the case, we have Shaq to thank! Shaquille O'Neal, who we all know as a longtime brand ambassador and loyal customer of The General, is a part-owner of NRG. He enthusiastically forged the relationship, laying the foundation for a seamless and organic union between our two successful brands. 
"The General is thrilled to partner with NRG and is excited to support the team as it looks to secure more hardware for its already robust trophy case," said Elicia Azali, Chief Revenue Officer for The General. "We're incredibly thankful that Shaquille recognized the clear alignment between the two brands and was instrumental in bringing us all together for this partnership."
The General and NRG both acknowledged early on that there is a natural synergy between the high-octane gameplay of Rocket League and the need for quality car insurance at affordable rates.
"The explosion of the esports industry has been really exciting and it's just getting started. Both The General and NRG connect with similar audiences, so a partnership here is a natural fit. I can't wait to watch it come to life." – Shaquille O'Neal.
What's Next?
Keep an eye on The General's blog for updates and announcements because we'll be partnering with the NRG team to roll out fan-focused events and activations through the remainder of Rocket League Championship Season X and into Season XI. You don't want to miss this!