The General Insurance & Morehouse College
Last year, when The General Insurance announced its partnership with Nashville-local HBCU Tennessee State University, it was planned to be only the first of many such partnerships. Just over a year later we are proud to be expanding our support of HBCUs as we join our parent company, American Family Insurance, in a partnership with Morehouse College. Morehouse, located in Atlanta, GA, is the nation's only historically Black liberal arts institution specifically dedicated to educating and developing men. Our partnership includes a 3-year, $45,000 investment that will aid in supporting and expanding the college's Summer Math and Science Honors Academy (SMASH).
"I am excited about our new partnership with Morehouse College in Atlanta to help champion and develop the SMASH program. This is our second partnership with a historically Black college and university (HBCU) and a great example of our commitment to diverse recruiting, hiring, and retention."  –  Tony DeSantis, President & CEO of The General
Why We Chose SMASH Morehouse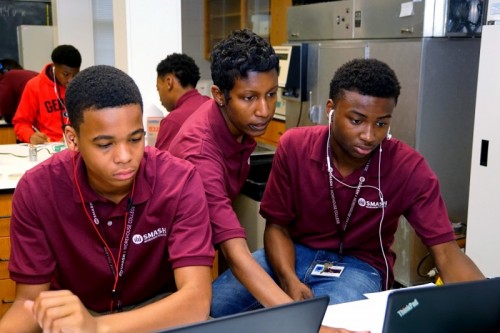 A program worthy of support, SMASH Morehouse is intensive. Not only does this three-year college prep program empower students through project-based learning, exposing them to STEM careers and developing them academically, it also encourages them to be changemakers. Students are challenged to analyze the issues most impacting their own communities and to develop solutions rooted in STEM principles.
Educating changemakers and meeting the demands of a diverse workforce in STEM careers means eliminating barriers to students of color who are interested in careers in the field. SMASH is a pre-college initiative doing just that, offering talented students in underrepresented communities an opportunity to jumpstart their STEM education and career path.
As a national leader in STEM education focused on the success of talented black men, Morehouse is perfectly positioned to contribute to diverse STEM workforces:
"Morehouse is a national leader in STEM education and has produced a pipeline of highly-qualified professionals who are bringing new innovations to the tech industry and much-needed diversity to the ranks of leadership and beyond. The Summer Math and Science Honors Academy is where the introduction to the Morehouse experience begins for young STEM students. I would like to thank The General Insurance and American Family Insurance for supporting SMASH Morehouse and partnering with us to inspire young minds to pursue excellence." –  Monique Dozier, Morehouse College, VP of Institutional Advancement
The General Insurance Support of HBCUs
A part of a larger initiative, The General Insurance remains committed to the ongoing support of historically Black colleges and universities (HBCUs) and celebrates the undeniable contributions their students and graduates make to our communities at large. This partnership is just one more example of the efforts The General and American Family are making in "career training and opportunities for diverse student populations," said Cheryl Mabry-Shirey, talent acquisition manager for The General.  "After collaborating with our talent acquisition and diversity and inclusion teams at The General and American Family, The General determined Morehouse College and the success of their SMASH program aligned with the company's goals while creating a pipeline for a diverse and talented future workforce," she said.
"It's important that our workforce represents the communities we serve. We believe a diverse workforce helps us outperform competitors and leads to more innovative problem-solving. It can also support productivity, employee morale and higher engagement and retention rates." – Cheryl Mabry-Shirey, The General Insurance, Talent acquisition manager
HBCU Partnerships Extending Beyond the Campus
Not limiting our approach to HBCU partnerships, American Family Insurance, and its operating companies including The General, are establishing well-rounded partnerships with universities and colleges across the country. Based on several factors such as high-caliber educational programs and student body diversity, these targeted partnerships expand beyond financial contribution. They branch out into mentoring programs, internships, scholarships, and apprenticeships, including volunteer programs. These efforts serve both students and the community as a whole while contributing to company recruitment efforts.
The Bigger Picture in American Family Community Support
This community investment partnership is part of the Free to Dream initiative announced on Feb. 23, 2021. American Family has pledged $105 million over the next five years to further its already deep commitment to closing racial equity gaps and affecting social impact and positive change in communities across the country. Free to Dream focuses investments on five societal issues: Economic empowerment; education and health equity; climate resilience; criminal justice reform; and workforce diversity, equity, and inclusion. We look forward to many exciting announcements from the Free to Dream initiative in the days ahead!