The General continues to make big strides in local communities by awarding nonprofit organizations.
Earlier this year, The General introduced their "The General Community Grants Program", an annual community investment initiative that builds on the company's persistent commitment to the communities they serve. The General is giving back to its home base of Nashville with the announcement of 17 local nonprofits that will receive a grant to continue their hard work in the community while also fostering authentic relationships. The commitment made by The General will total $145,000 and will be the first installment of a three-year grant commitment.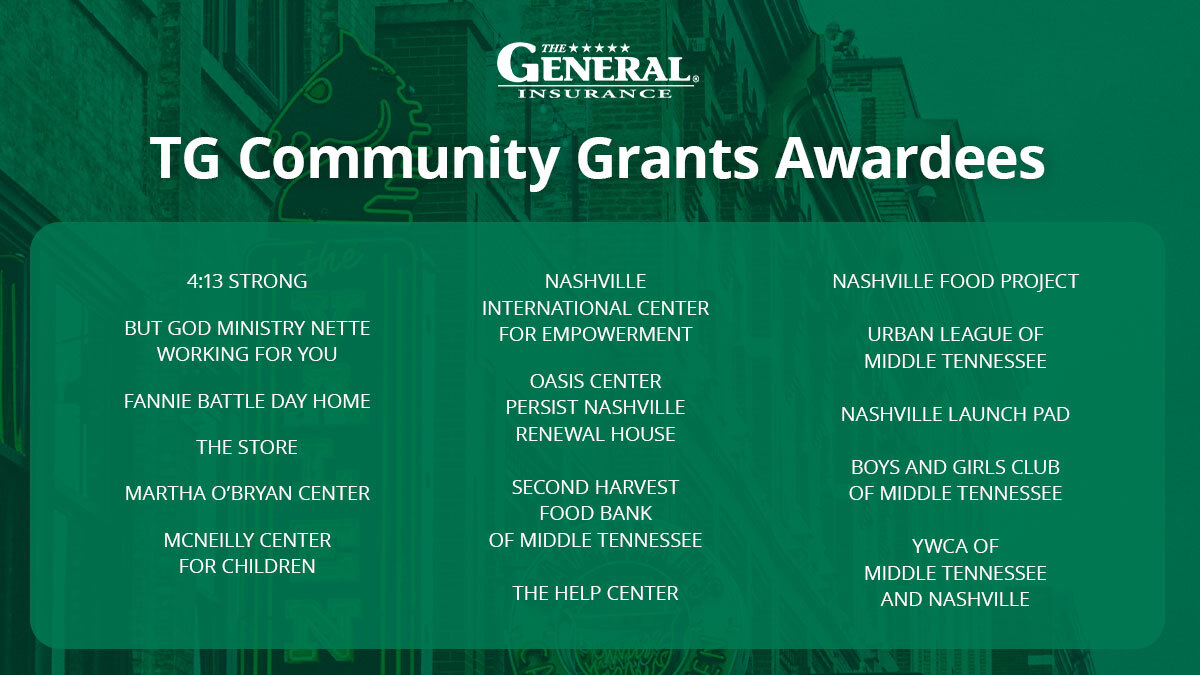 Trust Based Relationships
"We were so pleased with the response to our new grants program, and we're honored to invest in these 17 local organizations and the important community work they do every day," said Eileen Manners, Head of Claims for The General. "Our goal is to go far beyond writing a check, and strive to create authentic partnerships with these organizations by listening, learning and working together to bring about meaningful change in Nashville communities."  The General offers unrestricted, overall operating support rather than assigning funds to specific programs, and doesn't require traditional reporting requirements. Placing full confidence in the organizations promotes the goal of building trustworthy relationships to achieve measurable results for the community. 
The story of one grant recipient: Nashville Launch Pad
One organization The General has selected to invest in is Nashville Launch Pad, the city's only emergency shelter dedicated to LGBTQ+  youth. The organization was founded in 2014 after the forced closure of a similar organization due to lack of funding. All youth deserves "stress-free sleep" and Nashville Launch Pad is dedicated to creating a safe space that affirms the rights and dignity of LGBTQ+ adolescents. 
Their first program, Original Launch Pad, provides shelter space supported by a network of churches during the cold weather months. They offer a warm meal, a hot shower, and a bed to sleep in. 
"We're so excited about the investment The General is making in our work and it's incredibly affirming to be selected and shine a light on our organization," said H.G. Stovall, interim executive director of Nashville Launch Pad, "The grant from The General will enable us to re-launch Original Launch Pad in time for winter when so many LGBTQ+ young adults need our assistance with housing, and help us continue to provide staffing for our Independent-Supported Living Program, another important program that provides support for our clients as they get back on their feet and take steps to live independently."
The General Community Grants Program's unrestricted, general operating support will allow Nashville Launch Pad to use the funds where and when they determine they're needed most. 
Focusing on Impactful Investments
The General Community Grants program also places an emphasis on organizations that work with groups that identify as Black, Indigenous, and People of Color (BIPOC). It will also support funding for organizations/programs that provide educational or workforce opportunities for individuals currently incarcerated, justice-involved, or experiencing re-entry into the community.
Additional Information
To learn more about the additional grant recipients and The General's Community Grant Program, visit the press release HERE.