(Nashville, Tenn.) (October 6, 2020) — The General® Insurance announced today that it has partnered with Daymond John, original cast member of ABC's 4-time Emmy Award-winning show, Shark Tank, to support the inaugural Black Entrepreneurs Day.  Coined as "a celebration of Black business," Black Entrepreneurs Day is a free virtual event that will recognize, celebrate, and empower Black entrepreneurs everywhere in a fresh, fun, and exciting way.  In addition to superstar musical performances from Chance the Rapper and Questlove, the event will feature the Game Changer Conversations presented by The General® Insurance:  a series of one-on-one conversations between Daymond and well-known Black business leaders and personalities including The General® Insurance Brand Ambassador Shaquille O'Neal, Gabrielle Union, LL Cool J, Jamie Foxx, and The General's own Elicia Azali.  The programming will shed light and bring forward inspiration about their road to success as modern Black entrepreneurs.  Black Entrepreneurs Day will be streaming free worldwide, October 24th at 7 pm EDT on Facebook Watch via Daymond John's Page, and will also be simulcast by LiveXLive across 20+ other platforms, including LiveXLive, YouTube, Twitch, TikTok, Twitter, and more.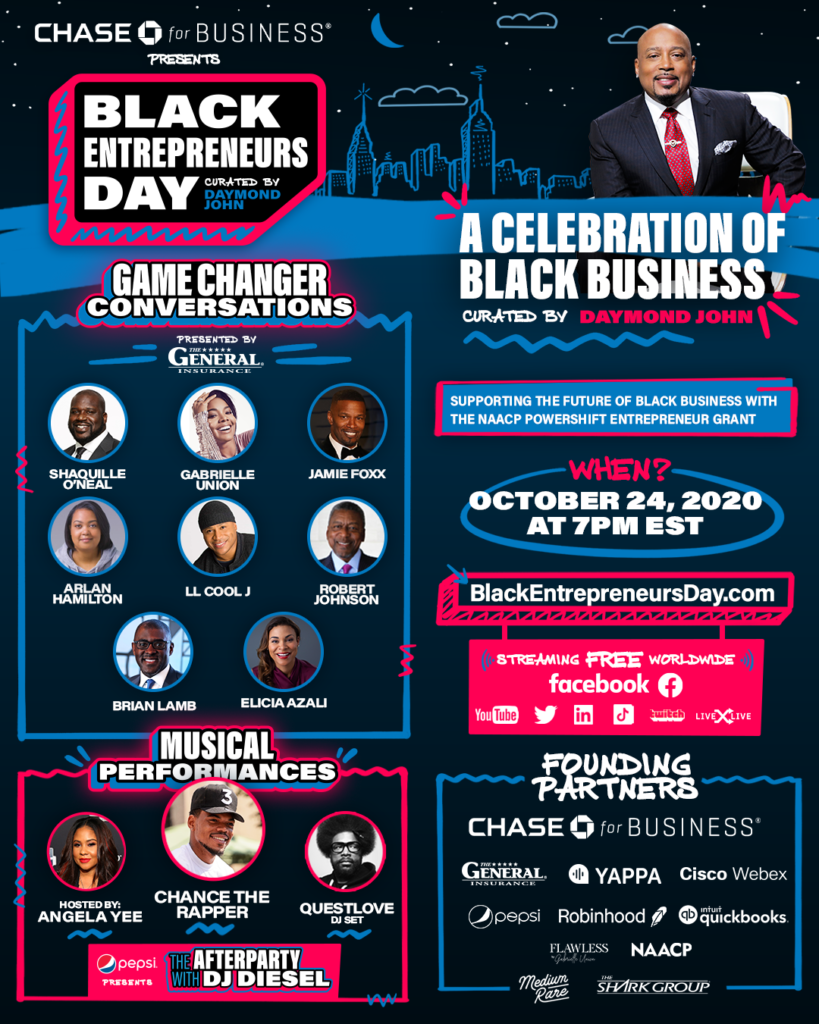 Daymond John said, "2020 has been a challenging year for many, but has also created tremendous opportunities for people throughout this country to rise up to be heard. I asked myself 'how can I make a difference' and 'how can I call upon my network to help make that difference.' I teamed up with The General Insurance to power Game Changer Conversations in order to celebrate small businesses and the entrepreneurial spirit that drives me and so many others. The people and partners who have signed on to participate with me in this event are a testament for the need to create change within the Black community. October 24th is the next step in many for supporting our entrepreneurs and is a tremendous endorsement that the world's most celebrated entertainers, athletes, musicians, and brands will help lead that way."
Elicia Azali – Chief Revenue Officer for The General and one of the event's featured Game Changer Conversations with Daymond John – saw natural alignment between the event and the brand.
"Nearly 1/3 of our customers are considering taking on a 'side business' outside of their typical work to make ends meet, and 1 out of 10 are managing their own business. They have big dreams and want to make improvements in their lives to achieve their goals.  This event will help them along that journey," said Azali.
During the event, The General will be awarding a $25,000 grant to one rising Black entrepreneur in partnership with the NAACP via the "NAACP Powershift Entrepreneur Grant." In addition to the grant, Shaquille O'Neal, Daymond John, and Elicia Azali will conduct private, one-on-one mentorship sessions with the recipient where each leader will answer questions and provide guidance on how to help the winner grow their business.
Applications are now open through October 12th. More details can be found at www.blackentrepreneursday.com.
####
About The General Insurance
The General Automobile Insurance Services, Inc. (The General®) is a licensed insurance agency and subsidiary of PGC Holdings Corp. (PGC), which is wholly owned by American Family Mutual Insurance Company. Through its insurance company subsidiaries and their predecessors, PGC has been writing automobile insurance since 1963, serving customers who may find it difficult to obtain insurance from other carriers at a reasonable rate. Visit www.thegeneral.com or www.thegeneral.com/shaq; follow The General on Twitter, Instagram, and Facebook.
Media Contacts:
The General:
Amy DiMaio
(615) 744-1219
About Medium Rare
Focused at the intersection of Sports & Music, Medium Rare partners with global icons to build live event brands. Medium Rare is the creator of Shaq's Fun House – legendary Hall of Famer Shaquille O'Neal's personal live event platform which brings his iconic personality to life, in addition, Medium Rare manages DJ DIESEL aka SHAQ. Future Hall of Famer and 3X Super Bowl champion Rob Gronkowski teamed up with Medium Rare to create – Gronk Beach – Gronkowski's personal beachfront festival which sold out within minutes. After working with global festivals across Live Nation, Tomorrowland, and LiveStyle, Joe Silberzweig and Adam Richman launched Medium Rare in 2017. Earlier this year, Joe and Adam were named to the Forbes 30U30 list and Pollstar's Next Gen Impact list. Learn more at www.Medium-Rare.com.