In 2020, acts of kindness mean more than they ever have before. It's been a challenging year, and this holiday season, The General is looking forward to helping to bring smiles to a few faces with our Acts of Kindness Giveaway – Holiday Edition. In May, we introduced TG's Acts of Kindness with four weeks of celebrating those who deserved a shoutout (or ten!). The response was overwhelming. Thousands of people stepped up to show a little love to those who deserved it – from community organizers to superhero moms and dads and from essential workers to friends who just make us laugh. One thing was clear, that no matter what 2020 was throwing our way, acts of kindness were still everywhere. With the coming of Christmas, we just couldn't resist the urge to bring you a new opportunity to give shouts out to those who are making your life easier and your holidays brighter!
Acts of Kindness – Holiday Edition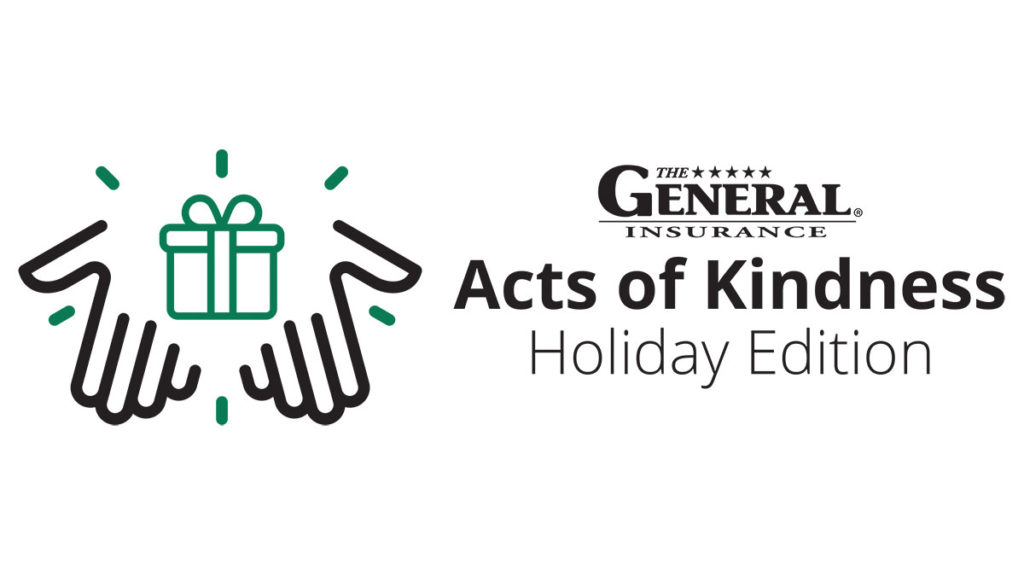 Who: TG, YOU, and those you feel deserve it the most!
This is your chance to give back to those who give to you and The General is just here to help you do it! Think of us as your elves – you're playing Santa! You tell us who you think deserves a little gift this holiday season and they will have a chance to be awarded one of fifty-two cash gift cards. You read that right – 52 people will walk away with cash awards!
What: An encore presentation of our popular Acts of Kindness Giveaway
TG Acts of Kindness is an all social media experience. We'll be sharing entry posts daily on our Facebook and Instagram pages. Just click that comment button on those posts and tell us who you'd like to see walk away with a little cash and why. Over two weeks' time, there will 52 chances for someone you know and appreciate to pick up a little bit of the $10,000 in cash prizes (up to $500 at a time!).
When: December 7, 2020 through December 18, 2020
Starting December 7, 2020, there will be new chances to nominate someone to win daily through December 18. That's two full weeks of good news and awesome opportunities!
Where: On The General Insurance Social Media pages
You will be able to nominate someone on TG's Facebook here and Instagram here.
Why: There are too many reasons to count!
Why is the easiest question to answer of all! We launched our Acts of Kindness giveaway in May this year because we knew that there were so many worthy members of our communities that deserved a little praise and we ALL needed something to lift our spirits. At The General, we were overwhelmed (in the best way possible) by the response). Check out the video below for just a few of the amazing stories that came in, and you'll understand we couldn't resist the urge for an encore presentation with a TG Acts of Kindness Giveaway – Holiday Edition!
How: Last but not least, HOW do you participate?!
We like to keep things simple. All you need to do to nominate someone for one of our 52 Acts of Kindness cash awards is visit our FB and Insta pages daily through December 18th. The day's entry post will be pinned to the top of our feed. Like the post, hit that comment button, tell us who you want to gift with some cash, and tell us why. It's just that easy!
Want to read the rules before you enter TG's Acts of Kindness – Holiday Edition? Our full terms and conditions are here.
Ready to enter? Then drop by our FB and Insta pages today. We can't wait to read your nominations!