Charitable organizations located in Nashville are invited to apply for support from The General Community Grants program.
In 2022, The General, a Nashville-based auto insurer (part of American Family Insurance Group), established a new community investment program called The General Community Grants. The program builds on the company's long‑standing commitment to the communities they serve by offering unrestricted, general operating grants to eligible non‑profit 501(c)(3) partners.
Nonprofit organizations in Nashville that align with program-giving priorities are encouraged to apply for a 2023 grant June 15 through July 15 by 5 p.m. central time.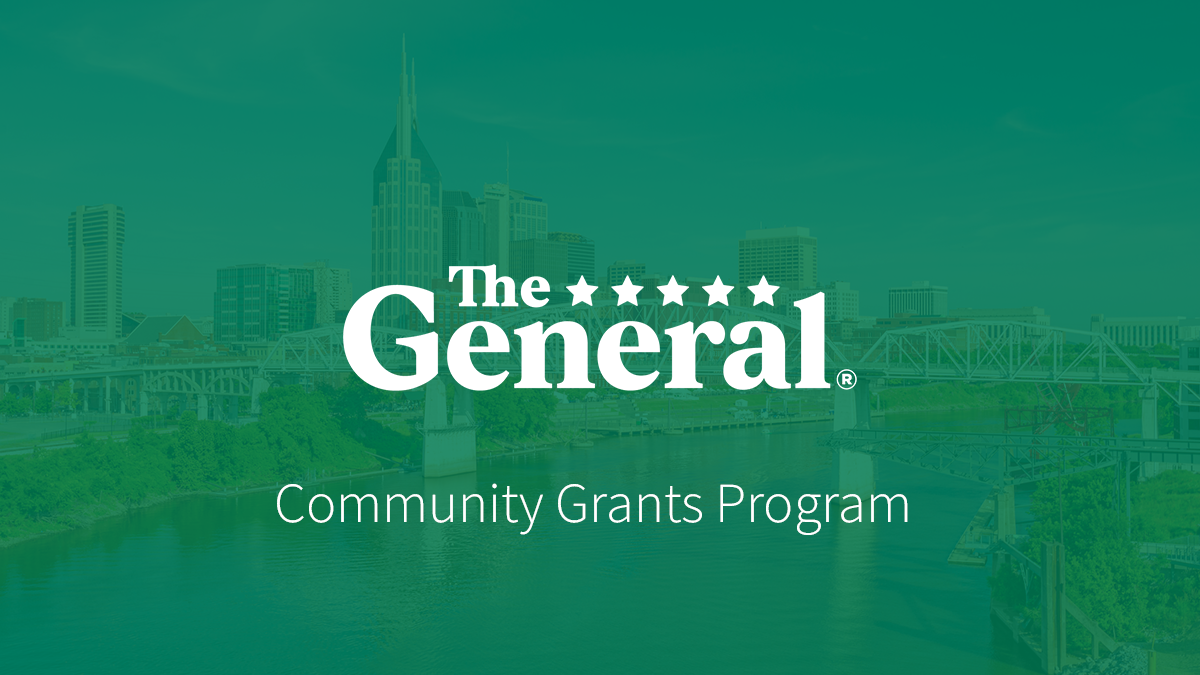 Grant Giving Priorities Strive for Positive Impact in Nashville communities
The goals of the giving priorities for The General Community Grants program are to create opportunities and meaningful societal impact for families and individuals in the Nashville community. The priorities include:
Academic Achievement and Education: Programs and services that advance educational equity in learning and academic achievement through access to high-quality education.
Healthy Youth Development: Programs and services that support the ongoing needs of young people from birth through 25, including social-emotional learning and mental health.
Economic Opportunity: Programs and services that increase employment access and opportunity, such as job training and workforce readiness.
Community Resiliency: Programs and services that remove barriers to short and/or long-term needs of individuals and families such as food, housing, transportation and daycare needs.
Some of the organizations that benefited from grants in the first year of the program include 4:13 Strong, Nashville Launch Pad, Persist Nashville, and Urban League of Middle Tennessee (complete list of recipients).
Trust-Based Philanthropy
The General Community Grants program centers on learning and leading with trust-based approaches in its philanthropic efforts in Nashville.
"Our investment in the organizations that benefit from our community grants program goes far beyond simply offering needed funds," said Eileen Manners, head of claims for The General. "Our goal is to create authentic partnerships with the organizations we support to facilitate tangible, positive change in our home city of Nashville. We believe in year one we've already made significant progress toward this objective and we'll continue to prioritize listening, learning and incorporating feedback from our community partners," she said.
The Community Grants program provides unrestricted, general operating support rather than assigning funds for specific programs. It also does not require traditional reporting requirements.
"Trust-based philanthropy means building relationships and promoting equity between the grant provider and their partners," said Manners. "We trust our partners to know where funds are most needed in their organizations, and we're confident in their commitment to achieve measurable results in the communities where they provide services and support."
Supporting the Underrepresented and Economically Disadvantaged
The General Community Grants program also places an emphasis on organizations who work with communities that identify as Black, Indigenous, and People of Color (BIPOC), those that are economically disadvantaged, and youth and young families. It also supports funding for organizations/programs providing educational or workforce opportunities for individuals currently incarcerated, justice-involved, or experiencing re-entry into the community.
More Information
Nonprofit organizations in Nashville can visit this link to read more about The General Community Grants program and giving priority details. Organizations can also apply directly at this link. Grant recipients will be announced in mid-August.