The General® Insurance is partnering with Tennessee State University to provide career training and employment opportunities for its students, as lead sponsors of programs to support the career development center and athletics academic services.
As part of the partnership with TSU, The General will sponsor a Leadership Series to support the campus career development center. The program will expose students to the inner workings of positions within the company and connect them with internship and career opportunities.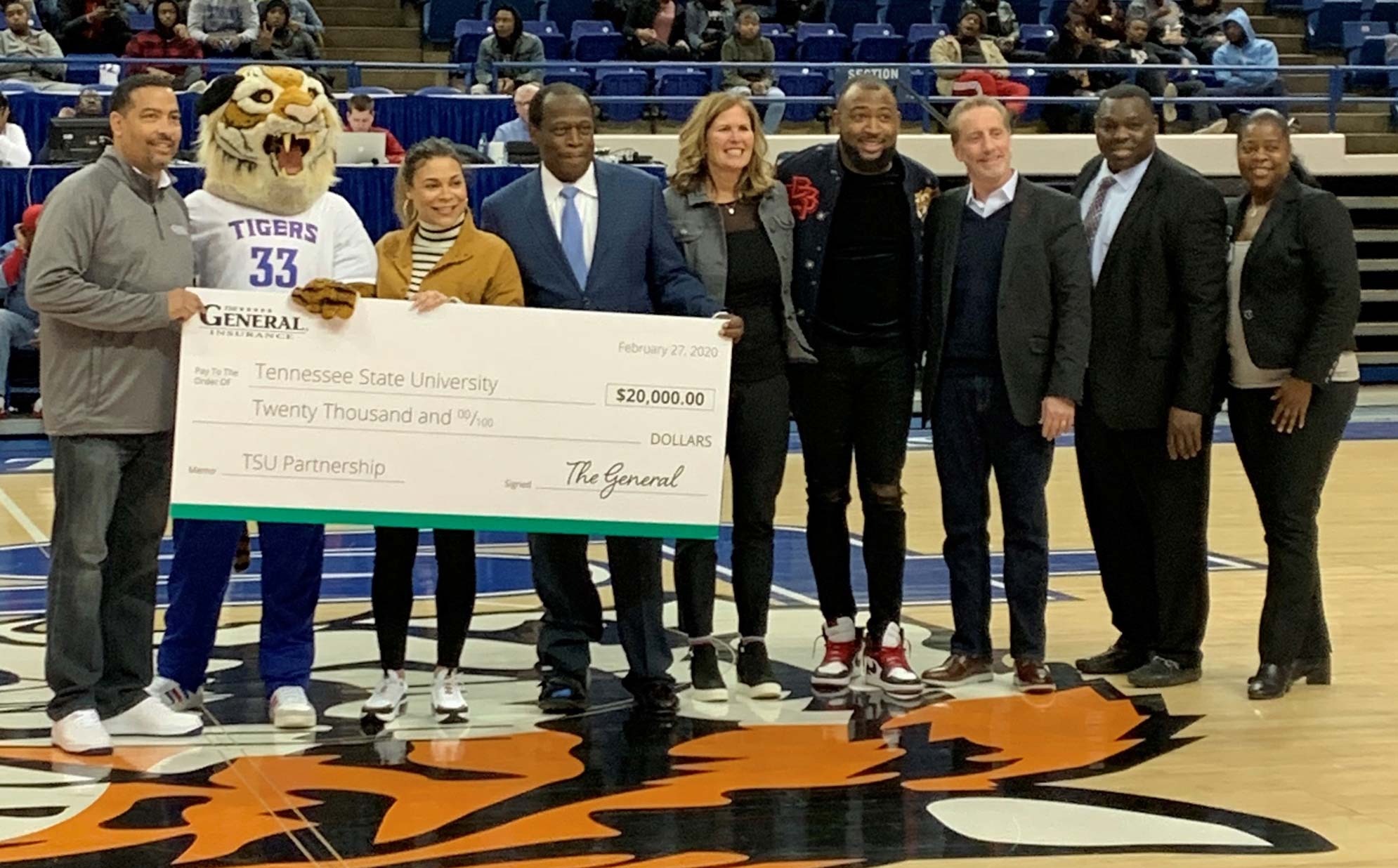 "The relationship with The General will help increase student engagement in the career development center and expand what we have to offer students interested in professional development," said Antoinette Hargrove Duke, Associate Director of TSU's Career Development Center. "We are excited about the partnership that also helps build employment opportunities for our students."
Additionally, The General will sponsor a Sales Academy to support student-athletes who oftentimes don't focus on career development until after graduation. The program will focus on teaching skills to student-athletes such as resume writing, interviewing, and sales techniques.
"Academic success is extremely important to our Athletic Department, however, we strive to create a student-athlete experience that also incorporates tools for our athletes to leave TSU ready to compete in a global society, "said Dr. Jeremy Perry, Assistant Athletic Director for Academics. "This partnership with The General Insurance is a tool that will expose our student-athletes to professional strategies that can be used for the rest of their lives."
Based in Nashville, Tennessee, The General is a leading non-standard auto insurance company serving customers with various needs, specializing in those who may have difficulty obtaining insurance from other insurers at a reasonable rate. The General offers career opportunities in various fields including Marketing, Information Technology, Sales, Human Resources, Data Science, and Risk Management, all with competitive salaries and opportunities for growth and development.
"Our commitment to TSU enables us to put our company vision to 'Make Life Easier' into action in the communities we serve," said Tyson Smith, Employee Relations Manager at The General. "We are thrilled for the opportunity to help TSU students reach their full potential."
The General is showing additional support to Tennessee State University with a $20,000 donation. The General Insurance CEO Tony DeSantis, CAO Elicia Azali, VP of Human Resources Leslie Even and Manager of Employee Relations Tyson Smith presented an oversized check to TSU President Glenda Glover, Athletic Director Teresa Phillips, and Career Development Center Associate Director Antoinette Hargrove Duke at a TSU home basketball game on February 27th to commemorate the beginning of the new partnership.
*****
About The General
The General Automobile Insurance Services, Inc. (The General®) is a licensed insurance agency and subsidiary of PGC Holdings Corp. (PGC), which is wholly owned by American Family Mutual Insurance Company. Through its insurance company subsidiaries and their predecessors, PGC has been writing automobile insurance since 1963. Visit www.thegeneral.com or www.thegeneral.com/shaq; follow The General on Twitter.
About Tennessee State University
Founded in 1912, Tennessee State University is Nashville's only public university and is a premier, historically black university and the land-grant institution offering 39 bachelor's degree programs, 24 master's degree programs, and seven doctoral degrees. TSU is a comprehensive research-intensive institution with an R-2 Carnegie designation, and has a graduate school on its downtown Avon Williams Campus, along with the Otis Floyd Nursery Research Center in McMinnville, Tennessee. With a commitment to excellence, Tennessee State University provides students with a quality education in a nurturing and innovative environment that prepares them as alumni to be global leaders in every facet of society. Visit the University online at tnstate.edu.
Contact: Jennifer Gamble
Phone: 615-522-1675
Email: nelsonprc@att.net