The General® Insurance supports local Black entrepreneur with $25,000 NAACP Powershift Grant during Black Entrepreneurs Day live-stream
(Nashville, Tenn.) (October 27, 2020) — On Saturday, October 24, The General® Insurance awarded a $25,000 "NAACP Powershift Entrepreneur Grant" to local Black entrepreneur and Nashville's own Mignon Francois, founder and CEO of The Cupcake Collection. The grant was awarded as part of the inaugural, live-streamed event, Black Entrepreneurs Day, curated by Daymond John.
In addition to the $25,000 grant, The General will provide Francois with private mentorship sessions with Shaquille O'Neal, Daymond John, and The General's Chief Revenue Officer, Elicia Azali.
"The General is thrilled to have awarded the $25,000 "NAACP Powershift Entrepreneur Grant" to Mignon Francois and The Cupcake Collection. Supporting a small business in our local Nashville community and contributing to making their goals a reality means a lot to us," said Azali.
Known for her entrepreneurial spirit and love and dedication to her craft, Francois started The Cupcake Collection in New Orleans, Louisiana in 2008 as a way to make ends meet. Today, The Cupcake Collection has sold over five million cupcakes and has become a destination in both New Orleans and Nashville. Like many small business owners, 2020 brought hardships, including an EF3 tornado in March that caused structural damage to their Nashville storefront and leaving them inoperable.  The start of the Covid-19 global pandemic soon followed.
"Mignon Francois is an excellent representation of what entrepreneurs across the country should be doing to build their businesses right now. When COVID hit, she found her Powershift that allowed her company to not only stay in business, but grow. I'm thrilled that through Black Entrepreneurs Day with the help of The General Insurance, she's received this grant, which will no doubt be put to very good use."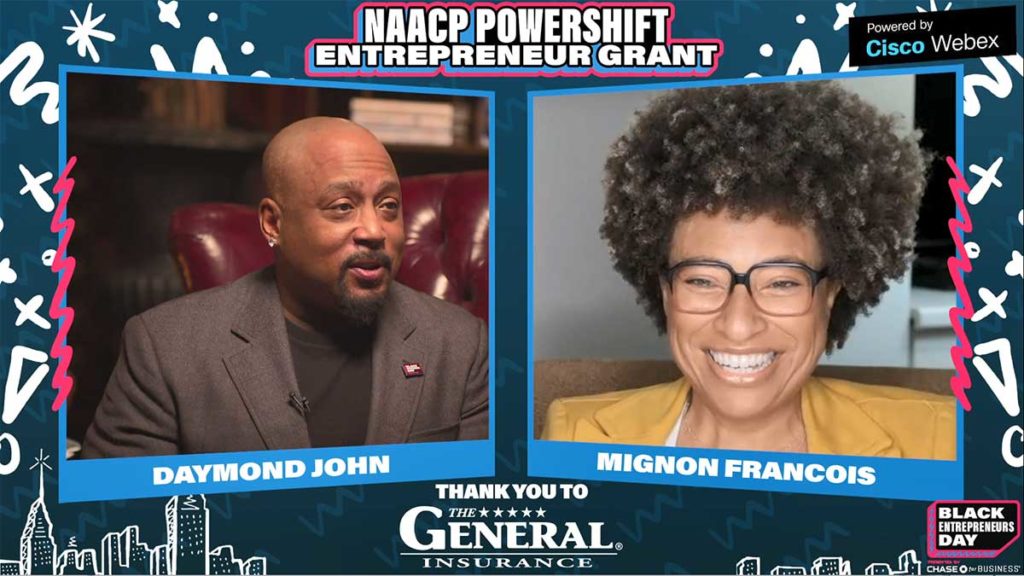 Francois plans to use the $25,000 grant and mentorship sessions from The General to adapt to the "new normal" and improve the company's operations, including:
Making temporary curbside solutions a permanent fixture by investing in a mobile application for online ordering, serving windows and outdoor heaters for colder months
Installing a walk-in freezer to meet increased demands of shipping orders
Improving the company's website, especially around the user experience
"At The Cupcake Collection, our mission is to be a lighthouse to the community, and an example of what good business looks like," said Francois.
"I am beyond grateful to The General Insurance and the NAACP for selecting me as a grant recipient, and look forward to spreading joy through our cupcakes for years to come!"
Elicia Azali was a featured speaker as part of Black Entrepreneurs Day's signature Game Changer Conversations with Daymond John where she provided tips and insight on how to be successful as a modern, Black entrepreneur.
The free virtual event brought in over 6.2 million viewers across 20+ social platforms, including Facebook Watch, LiveXLive, YouTube and Twitch.
####
About The General Insurance
The General Automobile Insurance Services, Inc. (The General®) is a licensed insurance agency and subsidiary of PGC Holdings Corp. (PGC), which is wholly owned by American Family Mutual Insurance Company. Through its insurance company subsidiaries and their predecessors, PGC has been writing automobile insurance since 1963, serving customers who may find it difficult to obtain insurance from other carriers at a reasonable rate. Visit www.thegeneral.com or www.thegeneral.com/shaq; follow The General on Twitter, Instagram and Facebook.
Media Contacts:
The General:
Amy DiMaio
(615) 744-1219
About Medium Rare
Focused at the intersection of Sports & Music, Medium Rare partners with global icons to build live event brands. Medium Rare is the creator of Shaq's Fun House – legendary Hall of Famer Shaquille O'Neal's personal live event platform which brings his iconic personality to life, in addition Medium Rare manages DJ DIESEL aka SHAQ. Future Hall of Famer and 3X Super Bowl champion Rob Gronkowski teamed up with Medium Rare to create – Gronk Beach – Gronkowski's personal beachfront festival which sold out within minutes. After working with global festivals across Live Nation, Tomorrowland, and LiveStyle, Joe Silberzweig and Adam Richman launched Medium Rare in 2017. Earlier this year, Joe and Adam were named to the Forbes 30U30 list and Pollstar's Next Gen Impact list. Learn more at www.Medium-Rare.com.