For the second year in a row, The General will fund one "NAACP Powershift Entrepreneur Grant," awarding a rising Black entrepreneur
The General is thrilled to announce that, for the second year in a row, we are partnering with Black Entrepreneurs Day — a day coined as "a celebration of Black business" and a free virtual event taking place on October 14 that will recognize, celebrate and empower Black entrepreneurs everywhere in a fresh, fun and exciting way.
As part of this annual event, The General will fund a $25,000 grant to one rising Black entrepreneur via the NAACP Powershift Entrepreneur Grant, in partnership with the NAACP. The winner will also get one-on-one mentorship sessions with The General brand ambassador Shaquille O'Neal and Elicia Azali, Enterprise Chief Marketing Officer at American Family Insurance.
A look at last year's winner
Last year, Nashville's own Mignon Francois, founder, and CEO of The Cupcake Collection, was awarded one of the inaugural NAACP Powershift Entrepreneur Grants funded by The General as well as private mentorship sessions with Shaq and Elicia Azali. The Cupcake Collection's mission is to be a lighthouse to the community and an example of what good business looks like. Francois planned to use the money to adapt to the "new normal" by making curbside service a permanent fixture by investing in an app for online ordering, installing a walk-in freezer to fulfill shipping orders, and improving the company's website.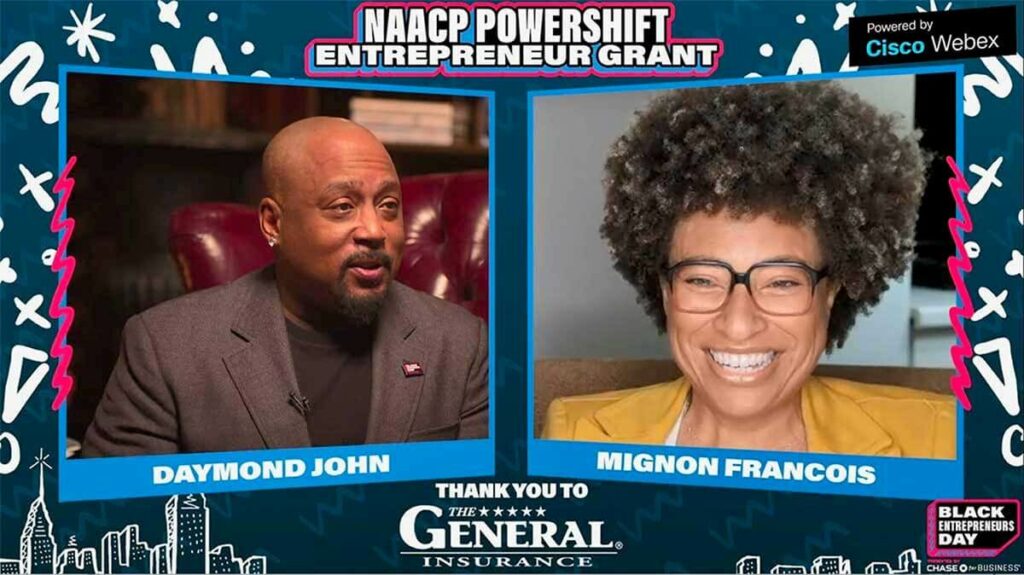 Known for her entrepreneurial spirit and love and dedication to her craft, Francois started The Cupcake Collection in New Orleans, Louisiana in 2008 as a way to make ends meet. Today, The Cupcake Collection has sold over five million cupcakes and has become a destination in both New Orleans and Nashville. Like many small business owners, 2020 brought hardships, including an EF3 tornado in March that caused structural damage to their Nashville storefront and leaving them inoperable. The start of the Covid-19 global pandemic soon followed, making Francois and The Cupcake Collection an excellent representation of what entrepreneurs across the country can do to pivot and continue to grow.
We recently caught up with Mignon to get an update on how the grant impacted her over this past year.
This year's recipient
This year's winner will be announced during Black Entrepreneurs Day on October 14, and we are excited to grant this year's recipient with an opportunity to reach new heights and empower the entrepreneurial spirit!
To learn more about Black Entrepreneurs Day, visit www.blackentrepreneursday.com