Auto Insurance Quotes Comparison Information
Why Should I Compare Car Insurance Quotes?
Whether you're purchasing car insurance for the first time, or renewing your policy, an auto insurance quotes comparison is always a good idea. The best part is The General® makes car insurance quotes comparisons fast and easy.

If you're ready to get a quote now, simply click here to receive a quote online or
give us a call at 1-844-328-0306.
What to consider when comparing auto insurance quotes?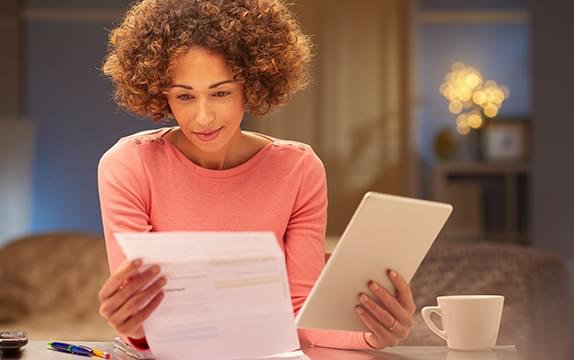 Purchasing car insurance is kind of like buying a car. There are a number of different options available. You can get a policy that covers the absolute minimum, a policy with a number of bells and whistles, or something in between.

Most states require you to have, at bare minimum, a certain amount of liability insurance. Purchasing a policy that only contains liability might be easier on your wallet in the short term. However, if you don't get comprehensive and collision insurance, and you end up getting into a serious accident, you might find yourself in more of a financial bind than you'd originally planned. (You can learn more about comprehensive and collision insurance here.
---
Some key questions to ask yourself are:
What's my car insurance budget?

How much money do you want to spend on car insurance each month? Can you afford to pay for your policy up front instead of monthly, which might end up saving you a few bucks? Can you afford to have a higher deductible, which will save you money on your premium? Or would you rather spend more on your premium to get a lower deductible?

There are many different ways to build your own policy. It's all part of a quality insurance quote comparison.

How much car insurance coverage do I really need?

You need to meet the minimum car insurance requirements for your state.

But generally, it's always a good idea to get higher limits and more protection than what the law requires, especially if your assets, such as your car, home, etc., are extremely valuable. The more valuable they are, the more protection you'll need.

However, if your car is, say, a compact car that's fairly common, and you rent your house or apartment instead of own, you may not need a lot of coverage.

Have I heard of this auto insurance company?

When you compare auto insurance companies, some might be cheaper than others. While many car insurance companies claim to be the cheapest, they also might not be there when you need them most.

So do your homework when you do your car insurance comparison. If you're not familiar with the company, ask your friends, or do research online. Often you'll find a history of the company – or a lack of one, which might be a red flag.

The General® has been around for nearly 60 years. We take pride in standing by our policy holders when they need us most.

What's a fast and easy way to compare auto insurance rates?

With The General®, of course! We can give you a quote in about two minutes, either online or on the phone. We know you have a lot of choices when you compare car insurance rates, so we'll do our best to get you the best possible policy to fit your budget.