No matter how carefully you may drive or what safety features your vehicle may have, car accidents are an unfortunate part of life. In the blink of an eye, a distracted driver can run a red light or miss a stop sign, resulting in an accident with another driver. In this situation, collision insurance can help you return to normal.  
The odds are good that you will need collision insurance at some point in your life. Data from the National Highway Traffic Safety Administration shows that in 2018 alone, there were a total of 6.7 million traffic accidents reported in the United States. That equates to an average of nearly 13 accidents every minute, or 202 accidents for every 100 million miles driven by all vehicles on public highways. 
By understanding how collision insurance works, you're better prepared to take on whatever life throws at you in the future. 
Defining
Collision Car Insurance
Collision insurance is designed to cover losses to your vehicle in the event it crashes into another object. You don't need to collide with another vehicle to file a collision insurance claim. Depending on the situation, collision car insurance can cover damages from accidents with stationary objects or damage from losing control of your vehicle. 
For example, let's say you're driving home on a cold winter night—you don't notice a patch of ice over the road, and you suddenly lose control of your vehicle. If you end up spinning out and hitting a guardrail, your collision car insurance may cover the cost of repairs to your vehicle. 
Unfortunately, not all accidents are covered by collision insurance. In another example, imagine driving down a winding country road. Without warning, a deer jumps in front of you, and you hit it with your car. The damages caused by the deer accident may not be covered by collision car insurance because animal damage is typically covered by comprehensive insurance benefits. But if you were to swerve to miss the deer and end up hitting a tree, collision coverage could offer benefits to repair the damages from the accident.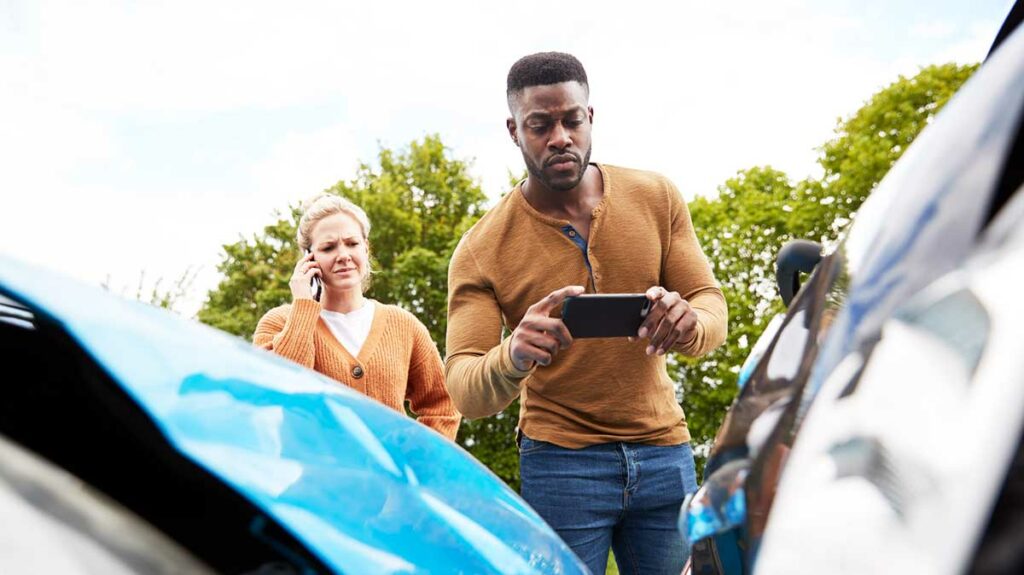 Is Collision Insurance the Same as Liability Insurance? 
With so many options, it can be hard to differentiate between types of coverage. Collision insurance is different from liability insurance. Collision car insurance is not considered a requirement for minimum coverage in any state, whereas liability insurance is usually required in some form regardless of where you live. Contact your state's motor vehicle office or an insurance agent from The General to determine exactly how much coverage you need. 
If your plan has both, collision insurance and liability insurance work in tandem to cover different situations. While auto collision insurance may cover the damages or losses to your vehicle, liability insurance may provide coverage if you are found "at fault" for an accident. Liability insurance often covers property damage and any bodily injuries the other party sustains in an accident with your vehicle. 
Is Collision Insurance the Same as Comprehensive Coverage? 
If you've ever financed a car, you might have heard your insurance agent talking about requirements for both collision and comprehensive insurance. While they're often grouped together, they usually cover different situations. 
While collision insurance may cover the cost of repairing your car in the event of an accident, it doesn't cover everything that could happen. If a natural disaster (like a tornado or hurricane) causes parts of a roof, or even another car, to hit your vehicle and cause damages, collision coverage may not pay for repairs. The same is true for other incidents, including fires and falling objects.  
Instead of relying on collision coverage, comprehensive car insurance covers many other unpredictable situations, including vandalism, civil disturbances or protests, theft, and natural disasters. The biggest advantage of comprehensive car insurance is that it covers multiple situations that you may not be able to afford out of pocket. For example, if a rock hits your windshield and cracks it, comprehensive insurance might cover the repairs. 
Is Collision Car Insurance Mandatory? 
Many state requirements include basic car insurance coverage—the combination of property damage liability insurance, bodily injury liability insurance, and uninsured or underinsured motorist insurance. Some states may also require personal injury protection coverage. None of the states require drivers to carry collision insurance for them to be considered legally insured.  
Even if your state doesn't require collision insurance, you might still want it on your policy. If you were to get into an accident without collision coverage, you would be responsible for paying for any repairs to your car. While superficial body damage can cost hundreds of dollars, repairing vital systems like the engine or suspension could range into the thousands. 
If you're financing your vehicle, your lender might require both collision and comprehensive coverage. Banks, credit unions, and other financial institutions require collision insurance to protect themselves against loss if your car gets totaled in an accident. Your lender is typically listed as a lienholder on your car insurance policy so they can seek compensation under your collision or comprehensive insurance. If your vehicle is destroyed in a collision and you lack collision insurance, you could face out-of-pocket expenses for any amounts remaining on your car loan.  
Having collision insurance is a good idea because the potential benefits typically outweigh the cost. If you drive an older vehicle that doesn't have a high value, you might not need collision insurance, and could save money by dropping it from your policy. Before you do, discuss your situation with an insurance agent to make sure you're maintaining the optimal amount of insurance to fit your lifestyle. 
What Factors Into My Collision Insurance Premium? 
Your collision insurance premium is based on several different factors, including the year, make, and model of your car or truck, the safety features installed on the vehicle, where you park your vehicle, and the average number of miles you drive per year. 
Your driving record can also help determine how much you may pay for collision coverage. If you have a clean record without tickets or accidents, you could qualify for better rates. 
Depending on the number of incidents and their severity, a bad driving record with driving infractions or accidents could raise your collision coverage premiums. Even if the accident was not your fault, being involved could put you in a higher risk pool and result in increased premiums. 
In most states, an accident will stay on your driving record for between three and five years. Before you start shopping around for collision car insurance, be sure to clear your driving record to help you get better rates.  
Get the Collision Coverage You Need from The General
®
No matter what you drive or your driving history, The General can help you get the right amount of collision coverage for you. Even if your record is less than perfect, The General can help you customize a policy to keep you covered on the road. Get a quote today to start saving time and money on your auto insurance plan.