2020 has thrown us quite a few curveballs, but that doesn't mean we can't still enjoy the little things this holiday. While the regular holiday pageants and parties may be a no-go, you can still check out some holiday lights in 2020 while staying safe and distanced.
Where can you find holiday lights in 2020?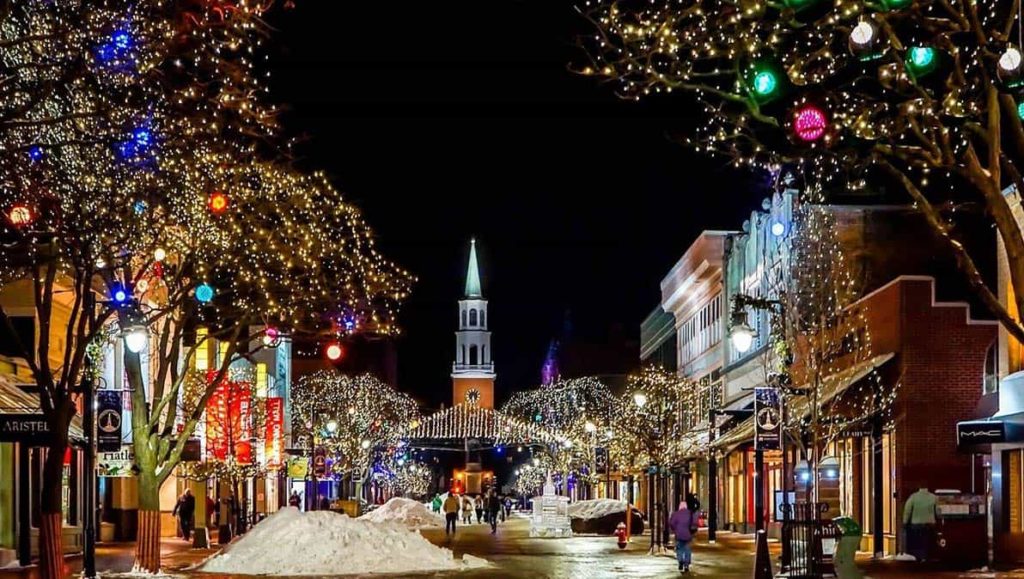 Local Neighborhoods & Downtown Areas
Many homes and neighborhoods decorate for the holidays. Some are even known for it! Taking a drive through your local neighborhoods is an easy, safe way to see some holiday magic. Bonus: it's free and most people love a drive-by to view their hard work and holiday cheer. Below are some of the nation's best examples.
Los Angeles, CA – Candy Cane Lane, a residential street in Woodland Hills, is famous for their decorations. It certainly lives up to the name.
Rochester, MI – The downtown Main Street of Rochester, outside of Detroit, is decked out every year for The Big Bright Light Show. Every building is done up with lights for the season.
Santa Claus, IN – This town has year-round Christmas attractions, but during the holidays they take it to another level. You can drive through and see the story of Rudolph in detail over 1.2 miles of lights.
Baltimore, MD – In the Hampden neighborhood, 34th Street puts on quite a show with each house putting its spin on holiday decor. There has even been a tree made of hubcaps!
Altoona, IA – The Jolly Holiday lights in Altoona is a 2.5-mile holiday joyride! Unlike most on this list, there is an admission fee for the light show, but 100% of the proceeds go directly to charity.
Portland, OR – Peacock Lane is the self-styled "Christmas Street" and residents do not disappoint. These unique homes take pride in dressing up for the holiday. You can drive through or park and stroll if that's more your style.
Head to the zoo for Holiday Lights!
Many zoos around the country put up their lights and open up after hours, allowing visitors to take in the show. There may be a cost involved and this year tickers are likely to limited to ensure social distancing. The lights are just the beginning though, as often there are other activities for adults and kids to enjoy. You may even see Santa Claus! The zoos in Chicago, Toledo, Detroit, and Los Angeles are particularly well known for their displays. No need to travel, though. Head to your local zoo's website to see what holiday activities they have planned.
Holiday Lights – Gardens & Parks
Another option for holiday light displays is your local park or botanical gardens. These outdoor displays allow you to respect social distancing guidelines while you take in the sights.
Bellingrath Gardens, Theodore, AL – During the holidays, this 65-acre estate features over 3 million lights and 1,100 set pieces for maximum festiveness.
Garavan Woodland Gardens, Hot Springs National Park, AK – The display at the gardens features an animated light show and an ice palace, along with other displays throughout its 18 acres.
Denver Botanic Gardens, Denver, CO – The interactive Blossoms of Light at the gardens is full of whimsy, and according to locals, is a can't miss.
Coastal Maine Botanical Garden, Boothbay, ME – The whole garden drips with holiday lights for the season. There is even a new sculpture garden this season, meaning even more to see!
Silver Dollar City, Branson, MO – While this entry is in fact a theme park, the holiday magic is no less spectacular. A special effects tree, parades, and over 6.5 million lights are just the tip of the iceberg.
Cheekwood Estate & Gardens, Nashville, TN – The lights are only the start of the holiday cheer. You can also meet real reindeer, listen to carolers, and even enjoy the s'mores pit! In 2020, you even get an added bonus with the Chihuly exhibit in full evening display!
No matter where you decide to take in some holiday lights this year, bundle up, drive safely, and most importantly, have a big dose of holiday fun – and don't forget to take lots of pictures. In fact, share them to your socials, and @ us, so we can join in on your holiday celebrations!