Going through a divorce can be stressful. No matter the reasons, you are discovering the various ripple effects of a change in marital status. Some of them you probably expected, while others may not have even been on your radar.
Take car insurance, for example. You and your ex-spouse will no longer share the same policy. One of you may keep your present insurance policy, while the other must apply for new coverage. That doesn't mean you can't use the same insurer as before, but part of securing auto insurance after a divorce is that you can shop for a new car insurance policy that meets your needs. Fortunately, the General® is here to help! Read on to learn what your car insurance will look like after a divorce.
How Does Divorce Affect Your Car Insurance?
Some insurance companies provide discounts for married couples, which can range from five to 15%  — a decent savings. Historically, married couples benefit from this statistic when file together. Once you're single again, that's a discount you will lose.
Fair or not, divorced drivers are often considered to be a greater risk, which means your car insurance rates may go up after your divorce. However, some states prohibit insurers from using marital status in their rating plans, while others limit an insurer's use of marital status in rating plans. Check with your insurer to see how marital status can affect rates in your state.
All that said, the premium difference between married and divorced drivers is not huge. On average, a divorced driver may pay about $50 more every six months for auto insurance coverage than a married driver.
Not only could you lose your multiple driver discounts when you divorce, but you might also lose your discount for bundling home and auto insurance if you no longer own a home and now rent.
From now on, your premium is based on your driving history, not the combined history of you and your former spouse. For some, that's a major plus, as a spouse with a lot of traffic offenses is no longer part of your driving history picture! For those with less-than-stellar driving records, though, the former spouse's better driving history may have kept premium amounts down.
The Divorce Agreement
Your divorce agreement should spell out exactly how the marital property is divided. It includes any vehicles, and it should include who will pay for their insurance. If you have children, the divorce agreement should include who will pay for their car insurance once they are old enough to drive.
If your divorce agreement states that your ex-spouse will pay for your car insurance, at least for a specified period of time, make sure the insurer has your contact information. Should your ex-spouse stop paying the premiums and leave you without coverage, your insurance carrier can notify you to help you make payment arrangements. Getting your spouse to pay the premiums could involve going back to court.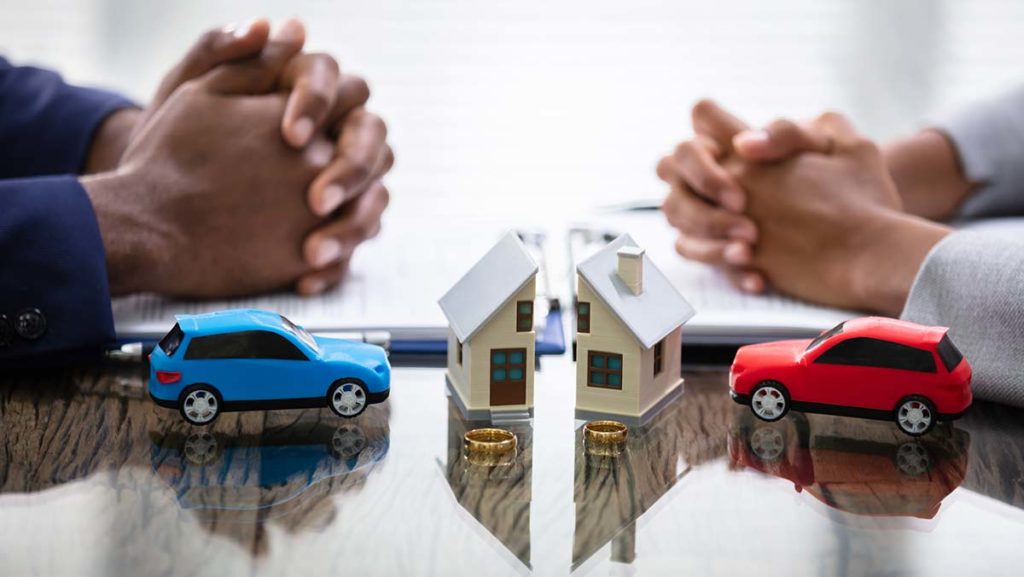 Consent Is Necessary
Neither spouse can remove the other from the car insurance policy without their consent. Without insurance, the other spouse would lose the ability to drive legally. Removing a spouse from a policy requires the consent of the spouse to be removed.
Spouses are generally removed from the car insurance policy when the divorce becomes final.  Trying to rearrange auto insurance policies if the divorce doesn't become final is complicated, so insurers advise waiting for that final decree to make changes.
How long you have to notify your insurer after the divorce becomes final depends on your state and the terms of the policy. Most notifications are required in 30 days or less. You must also share your new address with your insurer and inform them if you move.
The spouse whose name is being removed should start a new policy before the removal date.
Title Changes After a Divorce
Make sure that your name is on the title of the car for which you are the named insured. If both of you remain listed on the title of a vehicle, even if only one ex-spouse uses it, you could end up liable if your ex-spouse gets into an accident. Your divorce lawyer should arrange the title changes.
Does Your Car Insurance Change If You Move After a Divorce?
If you are staying in the marital home, your premiums aren't affected by moving to a new location. If you move elsewhere, your premiums may rise or fall based on your new address. If you relocate to a metro area with a higher accident and car theft rate, for example, expect your premiums to increase. If you move to a rural area with little traffic and few crashes, your premiums may go down.
If you move to another state, you are subject to that state's minimum requirement for liability coverage and other auto insurance regulations. You might move from an at-fault to a no-fault state, or vice versa, which can greatly affect your premium payments.
Does Divorce Affect Your Credit Score?
After divorce, your credit score might take a hit, at least temporarily. Drivers with good credit scores generally pay less for car insurance than those with worse credit. While you can improve your credit score over time by paying down debt and paying bills promptly, expect higher premiums for a while until you boost a poor credit score.
Car Insurance for Divorced Parents
Things may change for divorced parents when there are children of driving age in the picture. Assuming there is joint custody, both parents may have to put the children on their individual policies, should the kids have access to vehicles in both homes.
What if your child only uses your vehicle on occasion? If your child drives your car more than 12 times annually, they belong on your policy. The same holds true about being added to your ex-spouse's policy.
A more costly alternative is letting your child get his or her own car insurance policy. This is usually more expensive than putting the child on either one or both parents' policies. Your child would also need a car titled in their name to purchase their own insurance. For some divorced couples, this arrangement may make sense, especially if the one who pays for this insurance is included in the divorce agreement.
Keep in mind that, when it comes to car insurance, it is usually the vehicle that is insured, not the driver per se.
Collision and Comprehensive Coverage After a Divorce
After divorce, most people find that their incomes have considerably changed. That's why many want to reduce car insurance costs as much as possible.
If you own your older car outright, figure out whether dropping collision and comprehensive coverage makes sense. Even if your car is in good working condition, you will not receive more than its Blue Book value to cover the vehicle's loss in a crash. However, you generally don't have the option to drop collision and comprehensive insurance if your car is leased or you still owe payments.
Liability Insurance After a Divorce
Every driver must purchase the state's minimum requirement for liability coverage. For most drivers, it makes sense to buy more than the minimum. Otherwise, personal assets are at risk in an at-fault accident.
However, if divorce means you no longer have a house or other large assets, you may not need to carry as much liability insurance as you did when you were married.
Divorced Drivers and The General®
At The General®, we realize ending a marriage is difficult and brings unanticipated challenges. With all the other changes going on in your life, we want to make obtaining affordable car insurance as easy as possible.
If you're divorced and searching for affordable car insurance, the best way to do so is by comparing online quotes. At The General®, you'll receive your two minutes or less. If you like our rates–and we're confident you will–you can continue the process and receive an insurance card in just 12 minutes. Then you're good to get behind the wheel and drive. It really is that simple.