The automotive industry has a rich history filled with innovative ideas and breakthroughs that have changed the way we travel and experience the world around us. But often, the contributions of women in this field go unnoticed. In honor of Women's History Month and International Women's Day, we want to shine a spotlight on some of the talented and trailblazing women who have made their mark on the automotive industry. From inventors and engineers to executives and visionaries, these women have paved the way for future generations and continue to inspire us with their passion, achievements, and innovations. 
We will be highlighting the stories of Margaret Wilcox, Mary Anderson, Alice Ramsey, Florence Lawrence, Charlotte Bridgwood, June McCarroll, Barbara Wilson, Mimi Vandermolen, Rodica Baranescu, and Mary Barra. These women represent a diverse range of backgrounds and disciplines, but they all share a passion for innovation and a drive to make the world a better place through their work in the automotive industry. From designing early windshield wipers and creating safer roadways to revolutionizing the way cars are manufactured and managed, these women have left an enduring mark on the automotive industry and set the stage for future advancements.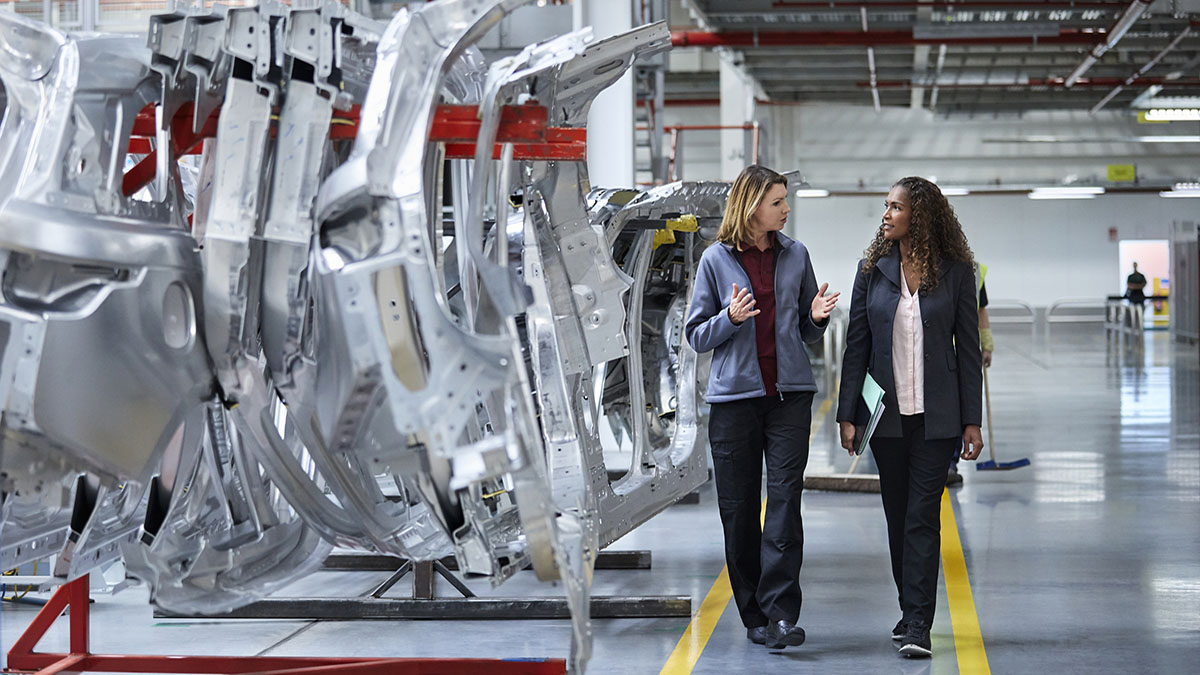 The Women's Bureau, an agency of the Department of Labor, was founded on June 5, 1920 with the mission to "formulate standards and policies which shall promote the welfare of wage-earning women, improve their working conditions, increase their efficiency, and advance their opportunities for profitable employment." According to Car and Driver, nearly half of the 345 inventions listed under "Transportation" in the bureau's bulletin were related to autos, including traffic signals, turn indicators, a carburetor, a clutch mechanism, and an electric engine starter.
Each of these women have a unique story to tell and lessons to share. Whether they were pushing the boundaries of what was possible with new technology, breaking down barriers to entry for women in male-dominated fields, or paving the way for future generations of female leaders, these women are true pioneers in the automotive industry. Let's take a closer look at their lives and their legacies. 
Margaret Wilcox
Born in 1838, Margaret Wilcox patented a car heating system that greatly improved the comfort of driving. Wilcox is best known for inventing a device that allowed drivers to keep their hands warm while driving on cold days. She received a patent for her invention in 1893, which was designed to channel heat from the automobile's engine to blow into the vehicle's front cabin and heat the interior. This device was ahead of its time and made long drives in the winter much more comfortable. Although her work sparked the innovations of heaters in modern cars, it wasn't until 1929 that Ford would start installing her system in its 1929 Model A cars.
Mary Anderson
Mary Anderson was born in 1866 and was a true visionary and inventor. Anderson was awarded a patent in 1903 for her "window cleaning device for electric cars and other vehicles to remove snow, ice or sleet from the window." Anderson was inspired to invent the device after observing streetcars in New York City and noticing that drivers had trouble seeing through the rain and snow. Her invention consisted of a lever inside the car that controlled a wiper blade on the outside of the windshield.
According to History.com, Anderson was unable to sell the patent to any manufacturing firms because the device was claimed to have no practical value and the wipers' movement would distract the driver and cause accidents. Her patent would then expire before she could attract anyone to use the idea. Today, windshield wipers are a standard feature on all vehicles and in 2011 Anderson was inducted into the Inventors Hall of Fame for her creation. 
Alice Ramsey
Alice Ramsey was a trailblazer in the automotive industry, becoming the first woman to drive a car across the United States from coast to coast in 1909 at just the age of 22. She accomplished this feat in a Maxwell automobile, covering over 3,000 miles from New York to San Francisco in just 59 days. Ramsey had just begun learning how to drive the previous year after her husband bought her an automobile. Shortly after learning how to drive, Ramsey logged over 6,000 miles around her New Jersey home.
Ramsey's driving abilities were exactly what won the attention of Maxwell Motors, who provided the vehicle and covered the expenses for her journey. The trip was not without road difficulties, however, as her vehicle incurred 11 different difficulties ranging from flat tires to mechanical breakdowns. Along with the mechanical difficulties, she also faced bad weather and troublesome roads through several states. Ultimately, Ramsey's journey proved to be a testament to the automobile's reliability and helped build confidence in the new mode of transportation, increasing trust in the automobile industry for all. 
Charlotte Bridgwood
Charlotte Bridgwood, born in Canada in 1861, was president of the Bridgwood Manufacturing Company. Bridgwood was an automobile enthusiast who decided to improve upon the invention of Mary Anderson by creating her patented automatic windshield wiper. It was much easier, and less taxing, on drivers compared to Anderson's earlier efforts because it was electrically operated. Bridgwood's invention, patented in 1917, utilized rollers instead of blades and was and titled "Storm Windshield Cleaner."
Unfortunately, just like Mary Anderson before her, Bridgwood would not see any substantial financial or commercial success with her improved invention. Her small company did produce automatic wipers prior to the expiration of her patent, despite this they never caught on until after her patent would expire in 1920. Although Bridgwood and Anderson would not profit from their inventions, their achievements and legacy will last forever.
Florence Lawrence
Canadian-born actress and inventor, Florence Lawrence, is credited with being the first movie star. Lawrence also invented several devices for automobiles, including turn signals and automatic gear shifting. In 1913, Lawrence invented a device that she called the "Auto Signaling Arm." This device would be triggered by electrical push buttons that raise and lower the signaling arm attached to the back of the fender. The device would also be triggered by pressing the brake pedal, which would raise the signaling arm to indicate a stop.
Despite being the creator of such a pivotal addition to the automobile, Lawrence never received any patents for her designs. Her inventions were far ahead of their time and helped to improve the safety and functionality of cars. 
June McCarroll
June McCarroll was an American physician and inventor who is credited with inventing the concept of the "center line" which served as a separator for traffic driving in opposing directions. In 1917, McCarroll was driving her Ford Model T down a California roadway when suddenly she was faced with a truck. According to Autowise, trucks were (and still are) kings of the road, which explains why McCarroll was forced off the road during this frightening altercation that forced her to skid off the road to avoid the oncoming truck. Immediately after that encounter, McCarroll thought of her idea to have the center line in order to create some separation for opposing traffic.
It was on today's Indio Boulevard in 1917 that McCarroll took it upon herself to paint the first center line. By the year 1924 California was the first state to have mandatory center lines, which established the state as a pioneering leader in automotive regulations. 
Barbara Wilson
After graduating from Prairie View A&M University in Texas, Barbara Wilson moved to Detroit in 1962, which is appropriately nicknamed "The Motor City" because of its rich history in the automobile manufacturing industry. It was here that she met her husband who was in the used car business. At that time Wilson was working in the accounting department of GM. After GM's acquisition of Pontiac, Wilson and her husband made the decision to have her join him in the car-selling business. Turns out, she was a natural.
Honda approached the pair in 1979 to be their dealer in Ferndale, Michigan. After accepting this offer, Barbara Wilson became the President and Dealer Operator managing the business on a day-to-day basis. Wilson would be known as the first African-American woman automobile dealer, truly pioneering the way for the next generation.
Mimi Vandermolen
Mimi Vandermolen was a Dutch engineer who joined the Ford Motor Company in 1970 as one of the first full-time female designers. After completing her first project working on the 1974 Mustang II, Vandermolen along with her team designed the interior of the 1986 Ford Taurus. Inside the Taurus, Mimi created an ergonomic cabin. Her designs emerged out of concern for the driver and passengers' safety. Vandermolen created ergonomic controls, dials for climate function, buttons with raised bumps, and a curved dash to make it easier to reach controls.
In 1987, Vandermolen was promoted to Design Executive for all exterior and interior design for Ford in America. She was the first female to reach this level at any automaker. Her innovations helped to improve the performance and efficiency of automobiles, making them easier and more convenient to drive. 
Rodica Baranescu
A Romanian engineer, Rodica Baranescu has made significant contributions to the automotive industry. She has worked for several major automakers, including Volkswagen and Mercedes-Benz, and has helped to develop new technologies. As an engineer at the International Truck and Engine Corporation, she worked on developing environmentally-friendly fuel, coolants, and diesel engine lubricants. In 2000, Rodica Baranescu, Ph.D., became the first woman president of the Society of Automotive Engineers.
Baranescu's work has helped to make electric cars more practical and accessible to consumers. Along with her engineering contributions, she serves as a role model for women in the industry. In fact, the Rodica Baranescu Award for Technical & Leadership Excellence was established in 2011. This award celebrates the successes of women in the engineering profession and recognizes their leadership and technical contributions in the aerospace, automotive, and commercial vehicle sectors. The award serves to broaden the awareness of the reach and impact of women working in mobility engineering. Its goals are to stimulate the involvement of women in engineering as well as open doors for young girls interested in science, technology, engineering, and mathematics (STEM) who wish to pursue engineering careers.
Mary Barra
Mary Barra is the CEO of General Motors and one of the most powerful women in the automotive industry. Barra began her career with GM in 1980 as a General Motors Institute (Kettering University) co-op student at the Pontiac Motor Division. She has been with GM for over 40 years and has held several key leadership positions. When Barra became the CEO in 2014 she became the first woman to lead a major global automaker. Under Barra's Leadership, GM envisions a world with zero crashes, to save lives; zero emissions, so future generations can inherit a healthier planet; and zero congestion, so customers get back a precious commodity – time. With Barra at the helm, GM has continued to innovate and develop new technologies, such as electric and self-driving vehicles.
Looking Forward: Creating a More Inclusive Future
The contributions of women in the automotive industry are immeasurable and undeniable. From inventing windshield wipers and automatic turn singals to becoming top executives in the field, women have paved the way for a more diverse and innovative future in the industry. As we celebrate International Women's Day and Women's History Month, it is important to acknowledge and honor the achievements of trailblazers like the ones highlighted above.
These women have inspired generations of women to pursue careers in the automotive industry, and beyond, and have proven that women have the capability to lead and innovate in a male-dominated field. Women account for 62% of car buyers, influence 85% of car buying decisions, and represent 1.4 million more drivers on the road than men in the United States. Yet, only 22.4% of transportation, storage, and distribution management roles and 27.1% of jobs in the auto sector were held by women in 2022. We must continue to support and uplift women in the industry and create a more inclusive and equal future for all.