Holiday or any day, The General® is ready with low insurance rates on top-rated coverage for your car, truck, and more!  But November's annual feast poses its own special challenges, so take along The General®'s Tastiest Tips to Get Through Thanksgiving!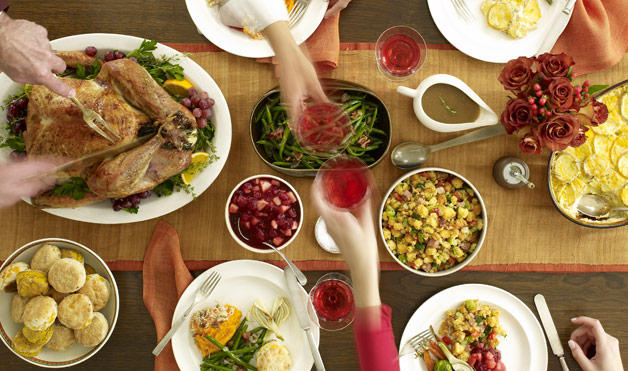 On the way, steady yourself to deal with loved ones:
Dad will ask about "your plans for the future,"  Grandpa Henry will tell the same awful jokes, Cousin Bud will still be a jerk, and Great Aunt Ethel's goiter will be no smaller (no staring).
Someone will want to watch the hapless Detroit Lions on TV.
Even worse, someone will organize a game of "two-hand touch" football; memorize the quickest route to the closest Urgent Care facility.
While at the table:
Even though it's taking up valuable side dish acreage, do not casually toss that lovely centerpiece into the fireplace.
Your food will get cold as someone at the table lists everything they are thankful for.  You know where the microwave is.
Still, you will get stuffed; the average American wolfs down 4,500 Thanksgiving Day calories (twice a normal day's intake).
No mocking the person ineptly carving the bird; you'll be asked to do it yourself "since you're so smart."
Yes, your sister-in-law's green bean casserole is gelatinous goo and no one is sure what's in the Jello salad.  To avoid reminders of where children are starving in the world, simulate eating small helpings of each.
Pumpkin pie hardly qualifies as dessert – pumpkins are squashes and squashes are vegetables.  Have extra whipped cream ready.
On the way back, take your time:
There's no rush; everyone's gullet is chock full of heavy food, so it's not like you'll be doing anything but hibernating for the next 12 hours.
There'll be plenty of overfed drivers on the road in need a post-turkey-meal nap.  Stay alert and stay safe.
With a time-honored recipe of low premiums and great coverage, The General® serves up ample portions of affordable car insurance no matter what your situation.  Stop by thegeneral.com for a free online auto insurance quote comparison today!