It's been a long time coming, but our world is cautiously and steadily re-opening. Chances are you've got your sights set on a post-pandemic road trip. We know you've got business to conduct, family to see, and memories to be made, but life since COVID looks a lot different. Your road trip planning should too. You may be ready to hit the road, but the virus didn't. No worries, though! No one loves a good road trip more than we do and we're here with your step-by-step guide for getting back on the road!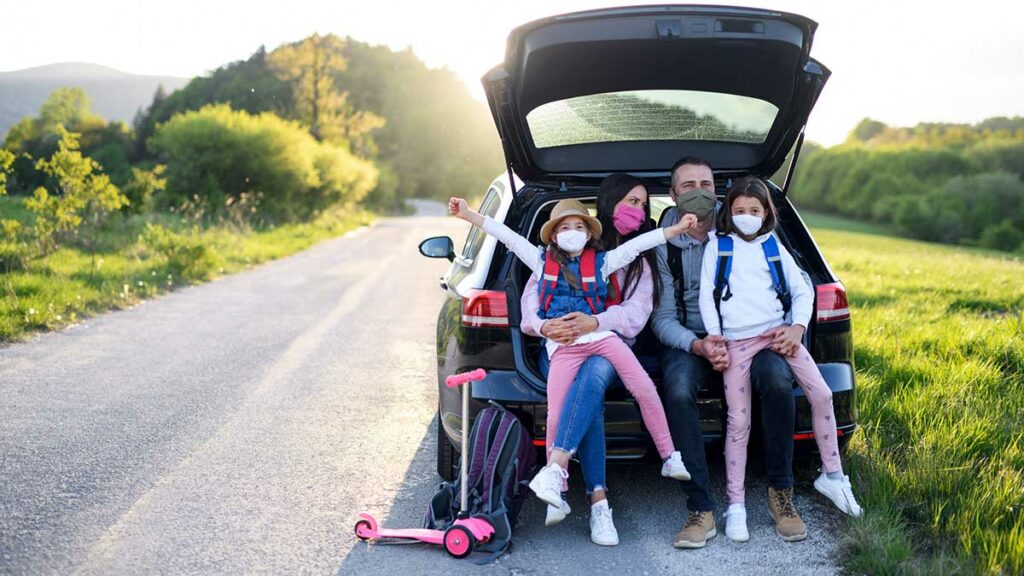 Post-Pandemic Road Trip Planning in 7 Steps:
Research Your Destination– Every state and city is reopening at a different rate. Some places may still have larger numbers of active COVID cases than others and guidelines for mask-wearing and capacities will vary. Research requirements and availability of your favorite restaurants and attractions. Many may still have limited hours and lower capacities than in previous years. You may need reservations for restaurants, and you might want to purchase tickets for your must-do attractions in advance. Don't assume that all cities are in the same state of reopening as your own.
Play It Safe– Get your vaccinations, follow the recommendations of the CDC, and keep your masks handy. Research the sanitization practices of any place you plan to be and make a plan that makes you the most comfortable. Even though everyone loves theme parks and crowded beaches, consider some solitude if it's best for you and your family! Not all road trips lead to crowds. Rent a mountain cabin, find a camping spot off the beaten path, look for a more secluded oceanside town, or visit family you've been separated from over the past year.
Budget Carefully– The increased demand for fuel as many Americans plan to hit the road this Summer will likely impact gas prices for months to come. Make sure you account for the additional cost when budgeting for a post-pandemic road trip. Your dollar may not go as far at the pump as it did on your last vacation.
Look for Deals & Plan Ahead– Many hotels mightstill be struggling with inconsistent bookings so do a little extra shopping around and you might snag an even nicer room or AirBnB than expected! Take advantage of the opportunity but plan ahead. Those competitive rates are likely to disappear as more people begin to travel.
Book with Caution– If we learned anything last year, it's that plans can change. We never know what's going to happen! When booking your post-pandemic road trip, read the fine print on cancelation and refund policies. Many companies in the travel industry have changed their rescheduling fees and refund guidelines. Look for flexibility, should you need to reschedule, and consider travel insurance if you're making a big investment in your upcoming vacation.
Get Your Car Road Trip Ready– Cars are meant to be driven, but many vehicles spent a lot of time in the garage over the past year. Don't plan to hit the road for a long drive without giving yours a little extra TLC. Don't just check the oil. Check the tires, check the fluids, and have a mechanic give your car a good once over. Take care of any necessary maintenance, consider a good deep cleaning, and don't forget to get that car insurance lined up too (we've got you on that one)!
Don't Take a Vacation from Safety– As we all know, COVID didn't hit the road just because we're ready to! While everyone 16 and over can be vaccinated, that still leaves our little ones susceptible. Prepare your kids to continue social distancing, wear a mask, and wash their hands frequently no matter where you go! Let them know that your post-pandemic road trip may look a little different, but with some good practices, they can stay safe and still enjoy themselves!
Post-Pandemic Road Trip Ready!
If you've done your research, found the best place for you and your family, and snagged some deals after shopping around, you're just about ready to hit the road. Stay tuned to The General's blog for more on getting your car road trip ready, and if you'd like a little help with those skyrocketing fuel costs, follow us on Facebook, Twitter, or Instagram! We're giving our followers a shot at picking up some gas or other roadtrip essentials on us later this month!