Misplacing your car keys is enough to make any car owner anxious. Most of the time, you find your keys buried at the bottom of your purse or in a pocket you didn't think to check. However, when you can't find your car keys after looking in every possible hiding place, you might need to have a replacement set of car keys made. Replacing car keys used to be a simple process, but with the advent of key fobs, car keys have become more advanced and more expensive. Doing a little research before replacing your car keys will save you time and money.
Replacing your old key fob can be costly. A replacement key fob can cost $50 to $400 depending on the type of car you drive. You might also have to pay from $50 to $100 to get your new fob programmed to work with your vehicle. Before you pay full price for a new key fob, check your car's warranty, insurance, and roadside assistance policy to see if they cover replacement car keys. Some dealerships even offer key fob insurance.
Should You Order New Keys from the Dealership?
There are multiple places online that claim to sell key fobs for less than your local dealership, but some key fobs won't work with your vehicle unless they're from the original manufacturer. Manufacturers like Subaru and Audi have security chips implanted in their key fobs to prevent them from being reprogrammed for different cars, and any key fobs from third parties aren't compatible with their cars. Some dealerships are willing to try and program aftermarket key fobs (a repurposed key fob you bought online), but there's always a chance that the fob won't work with your vehicle even after the technician tries to program it. In this instance, you'll be charged for their labor and still need to buy a new key fob that works. Going to your dealership might be the safest option if you have a newer vehicle, and your new keys can usually get made within one hour or less.
If your car is over five to ten years old, then a cheaper key fob might be a viable alternative for you. A simple key fob can be programmed by a mechanic, a locksmith, or the customer. Shopping online via sites like Amazon or Walmart are usually your best options, as some key fobs are only available online. Make sure to contact your local mechanic before purchasing a key fob: some mechanics are not equipped to program key fobs depending on their technology.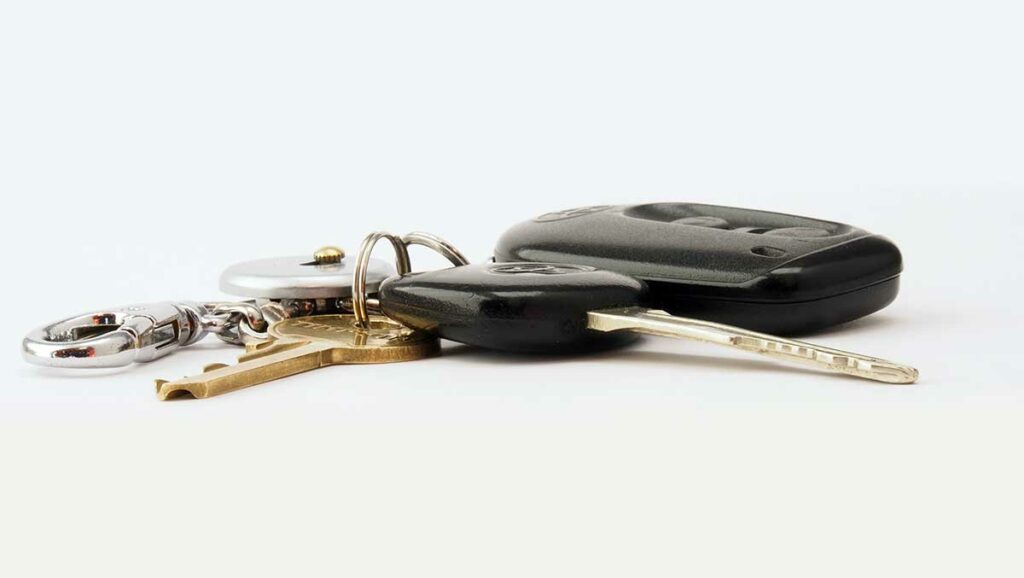 When Should I Call a Locksmith?
You might need to turn to a locksmith if you lose your keys while on the road. Locksmiths are often mobile and can come to you instead of towing your vehicle, and they're usually cheaper than getting a new fob via your dealership. However, if you have a newer European vehicle, your local locksmith may not have the equipment needed to program your key fob.
How to Avoid Losing Your Keys
Even if you find a great deal on a new key fob, getting replacement car keys can still be a stressful process. With these tips and tricks, you can prevent losing your car keys and save time and money:
• Put your keys on a key ring: putting your key fob and your mechanical keys on a bulky keychain will make them easier to find. You can also attach the keychain to your wallet or the inside of your purse for easy access.
• Try a key finder: key finders, like Tile, come with a small tracking device that attaches to your keys and comes with a corresponding app. If you lose your keys, you can view their location via the app or "call" your keys so you can find them if they're nearby.
• Select a designated spot for your keys at home: placing your keys in the same spot every time you come home will help you remember where they are automatically. Try something that's easily accessible when you're coming and going, like a glass bowl on a hallway table.
• Select a designated spot for your keys outside: when you leave the house, put your keys in the same place every time. This could be a zipper pocket inside your purse, backpack, or briefcase. Avoid hanging your keys outside of your bag where others can see them or they could fall.
Call The General
Depending on your plan with The General, your coverage might include our 24/7 roadside assistance policy. Our roadside assistance policy includes towing assistance, lockout services, and more. Call a customer service representative to see if you have roadside assistance today and make sure you've got coverage before you hit the road.